How Capio Gained x10 Views on Google Using PinMeTo for Healthcare Marketing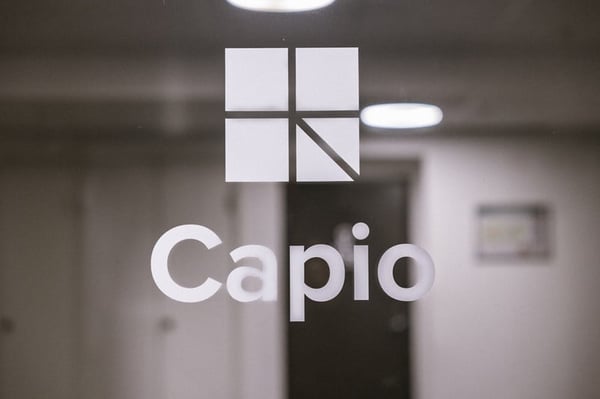 Overview
Capio
proudly stands as the Nordic leading private healthcare provider. From medical centers to dental clinics, Capio covers a diverse range of health services with combined net sales of SEK 13,6 billion and approximately 12,000 employees.
Such scale doesn't come without its set of challenges, especially in the digital world. For a company with
400+ locations
like Capio, gaining strong visibility in local searches, especially when patients are seeking immediate medical attention, is crucial.
And, with expansion and the growing digitization of healthcare services, the need for an effective healthcare marketing technology was evident.
Capio's Results 1 Year After PinMeTo Onboarding
Challenges
1. Information Management and Duplicates

73% of consumers lose trust in brands due to inaccurate local business listings
The main challenge for Capio was to ensure that all information, like opening hours, map functions, phone numbers, was consistent and correct across the main search, maps and social media platforms for each health center.

Many Capio health centers were operating sharing their address with other businesses which had led to having many duplicate and inaccurate listings on Google and Facebook that needed to be handled.


2. Ease of Use
Capio has more than 70 local users - healthcare managers responsible for answering local reviews, local posts and updating business information, and one of the significant challenges was inviting and onboarding all of them onto a new platform.
So that our local healthcare providers could focus on what they really need to do, we needed a solution that was as simple as possible.
HELENA KRYSSMAN, SOCIAL MEDIA & PR MANAGER | CAPIO


Capio wanted a healthcare marketing solution, but it needed to be intuitive and effective, even for those who aren't tech enthusiasts. Healthcare providers have a critical job, and navigating complex digital tools wasn't supposed to be an added stressor.



3. Review Management and Patient Engagement
88% of consumers trust online reviews as much as personal recommendations
Capio wanted to maintain a presence on various platforms and actively engage with patient feedback.

However, it was time-consuming and full of hustle for the local health managers to monitor and respond to location-specific reviews manually.
For us it was key to be constantly present where they (the patients) are - whether it's a praise or a criticism, we need a good way to respond.


4. Accessibility and Login Issues
Jeanette Lindahl, responsible for Capio's ophthalmology clinics marketing also described the accessibility issues with managing multiple business listings manually.

She recalls that with manual logins, she often ended up logging into a completely different business profile than she intended for.
When I went to log in a business profile, it said that you had something wrong or that it had to be updated, so then I had to go through all of them.
The Solution
Capio used a suite of products from the PinMeTo Location Marketing platform with the
Listings
as the primary feature to gain control over their massive data on their 400+ locations.
The
PinMeTo Conversations
tool was widely used to monitor and answer customer reviews, messages and other interactions, with
Posts
forming an essential component of their healthcare marketing strategy on social media.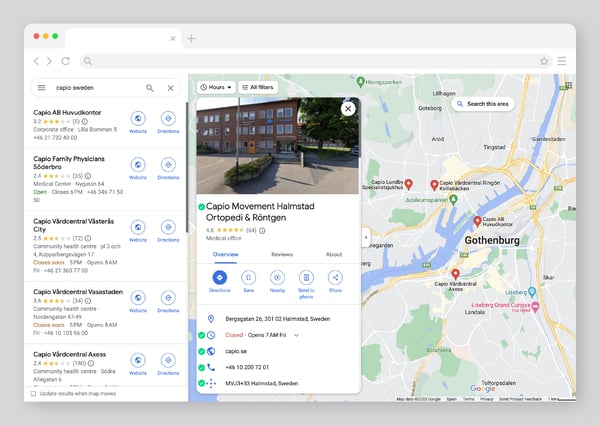 Step 1: Gaining Total Control Over Business Listings
With PinMeTo Listings, Capio gained access to a centralized platform to manage all business information, and the hands-on involvement of local health managers in the tool ensured accurate and consistent data across locations.

Duplicate listings were handled throughout PinMeTo onboarding and the media team gained full control over all Capio business listings and making sure that no pages or listings are created for outside of their structure.

And, with PinMeTo conflict notifications and weekly summaries of the to-do's the timely manual monitoring efforts were no longer needed.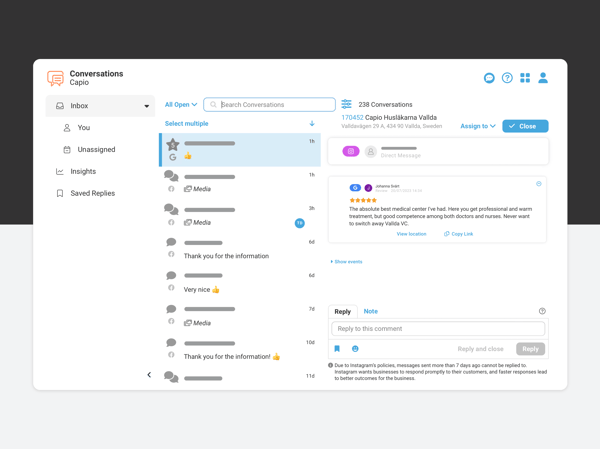 Step 2: Centralised Monitoring And Responding to Interactions
To level up their customer support and easier monitor all reviews, messages, comments, and mentions, Capio started using PinMeTo Conversations turning a challenge into a routine activity.

With the new centralized dashboard, the local healthcare managers were now able to respond as well as assign and add internal notes for any interaction without the need to access each listing manually.

This made sure that reviews and feedback got localised and relevant responses. The team also started receiving real-time notifications of each new conversation which enhanced their reputation management even further.
Step 3: Streamlined Publishing of Local Posts on All Platforms
Posting localised content for 400+ health centers wasn't a small feat. PinMeTo Posts made it easy to publish local content for all Capio health centers from one dashboard.
While managing 15 locations I was sitting and keeping track of them manually, it is so easy now when I can publish all the posts at the same time by just selecting the locations I need.
Both the media and the clinical team could now filter locations, publish and schedule posts on local Facebook pages in bulk, with no need to manually copy and paste content everywhere.
Step 4: Enhancing User Experience & Staff Trainings
To achieve easy and controlled access for Capio's extensive staff, we implemented PinMeTo SSO (Single Sign-On) that allowed the team to access PinMeTo with a single email login, plus have a view only of the locations that were part of their role.
You don't have to keep track of lots of passwords. And this has made everything so easy which means that more healthcare managers actually use the tool.
PinMeTo Customer Support team also conducted multiple online trainings ensuring that both marketing and the vast healthcare personnel understood the platform inside out.
There have been many stops on a long journey and now it feels great that we see all the results.
HELENA KRYSSMAN, SOCIAL MEDIA & PR MANAGER | CAPIO
Actions on Google Skyrocketed 1 Year After Full Onboarding
By gaining full control over their data, leveraging automation for managing conversations and posts, Capio has optimised their healthcare marketing efforts and achieved great results.
x21 Website Clicks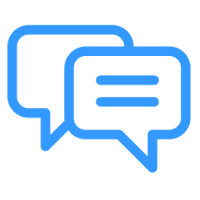 x29 Calls
x44 Direction Clicks
What Comes Next
''As we already know how to settle down our conflicts now we can also refine a little, look at optimisations we can do, maybe look at a little more keywords that we can use. It feels great. It is very fun to be your contact person,'' says Helena.
Capio has already nailed the fundamentals for a strong online presence, and our shared goal now is to delve deeper and improve their healthcare marketing even further.
Looking for ways to step up your local visibility?