SEO For Gas Stations - SEO Finland Case Study
One year SEO results
Gas Station Chain, SEO, skyrocketed their digital visibility during 2021. The increased visibility was one of a few factors that led to a sales increase of 20 %. We had a talk with Johanna Silén, Marketing and Business Development Specialist at SEO, talking about why a Location Management tool is a necessity for a multi-location brand.
About the company
SEO Cooperative is a Finnish GAS station chain with over 220 gas stations throughout Finland. Before joining PinMeTo the Gas company didn't work strategically with managing the digital presence of their many gas stations. A majority of the stations were not listed on Google, which meant that they didn't appear when searching in search or maps services. However, the company was aware of the importance of online visibility for their business.
Without the PinMeTo Platform, we would not have Human Resources to manage SEO's gas station network's locations in different Search and Maps services. That would mean that we would have to pick only one specific Maps service to focus on. With PinMeTo, maintenance and updating to all our platforms is easy and quick.
Johanna Silén, Marketing and Business Development Specialist at SEO



Therefore, in November 2020 SEO joined PinMeTo. This is what happened: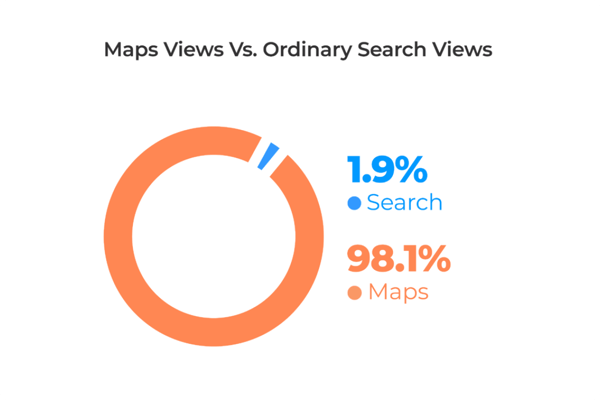 The Challenge: Motorists are not brand loyal!
Gas companies have a major challenge in that their customers are generally not brand loyal. For many people on the road, the choice of a gas station is heavily based on which station is the closest, or which they can find when searching online. When a motorist notices that the gas tank is running low, he or she will look for the closest gas station rather than considering which petrol company they like the most.
This clarifies the importance for a gas station company to have its gas stations visible on digital maps and search platforms. However, Maps searches are more important than general searches for SEO, with 98 % of its views coming from Google Maps. This indicates the importance for SEO, or any other company with a similar business, to have all their locations properly listed in Maps Services like Google Maps. Every time a gas station is not visible in a Google Maps search and a motorist searches for a gas station, it probably means one less visit there.
Why SEO went with PinMeTo
With 200+ gas stations throughout Finland, it was an enormous task for SEO to keep all geographical locations, addresses and opening hours up to date. Furthermore, SEO's list of gas stations is constantly changing, since the company actively acquires and sells stations on a yearly basis. According to Johanna Silén, managing 200+ gas stations properly online would require hiring an extra person, working only with location management.
Iiro Antero at PinMeTo contacted us and told us about the PinMeTo tool and its features and we soon realized the value that the tool could bring to our business. The most important factor to us was that we could use a single tool to upload and manage all our gas stations to a variety of Search- and Maps services.
Johanna Silén
SEO Gas Stations onboarding with PinMeTo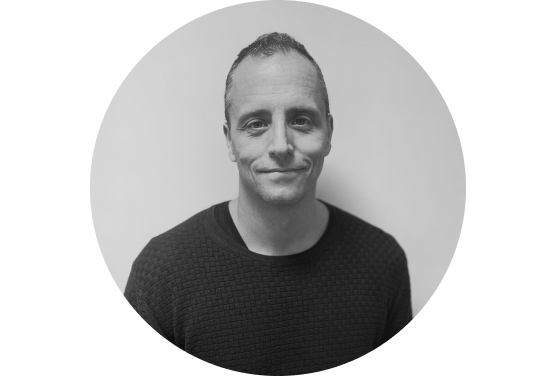 Björn Handell, Head of Customer Success, answers:
If expectations were skewed, that is good for us to know. Setting expectations right is something we work with constantly and I must thank Johanna for bringing this up, it is important feedback and we will learn from it.

Parts of the Onboarding Process can be directly controlled by PinMeTo, that said, there are also parts that will require the help of our partners as well as the end customer themselves. It is a small but detailed intricate project that done right will set the starting point at a place where the customer can be successful.

While we do need our customers' cooperation during onboarding it is worth mentioning that the brunt of the work is done on the PinMeTo side. I sympathize with Johanna's position, it is worth mentioning the great value of proper onboarding in terms of data quality, location verification, accounts verification and just getting things in order.
Contributing to Sales
In the long run, any tool that a company invests in must contribute to business value. When a gas company drastically increases its visibility in Discovery Searches and Directions Clicks, it is probable that the increase will also generate sales. Because increased visibility means that the gas stations are more visible in searches. While Directions Clicks means that people have not just seen the gas stations, they are clicking "Get Directions", which clearly indicates their interest to visit the station. Therefore, we are very pleased to present that SEO increased its impressions in Discovery searches by +359 %. While Directions Clicks increased by +61 %, which is also a great improvement. Johana Silén sees a clear connection between the benefit of PinMeTo and the company's revenue.
Sales growth is the sum of many things, but PinMeTo has certainly played a big part in SEO's location discoverability when domestic tourism has been a trend during the Covid-19 pandemic. SEO Gas station sales developed in 2021 by about + 20 % -
Johanna Silén


Scope of comparison
SEO was onboarded with PinMeTo during December 2020. Therefore, we chose to compare the average result for the entire year of 2021 to the average result during the last three months before SEO's onboarding (September - November 2020). All presented data is based on SEO performance within the Google network.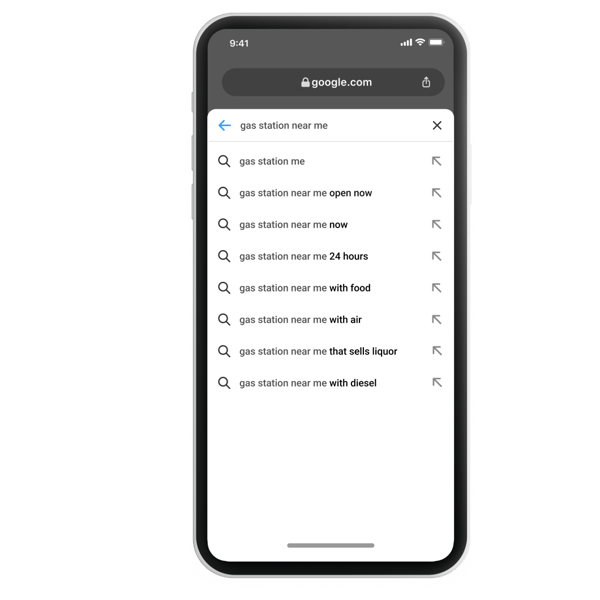 Discovery views

The average number of Discovery Views during 2021 were 359% higher than during the three months previous to SEO's onboarding. The Discovery Views increased almost immediately after the company's gas stations were added to the listing tool. Listing management is an ongoing process and great results are not reached overnight. PinMeTo and SEO cooperated in the process of claiming locations and solving other complications.
What are discovery searches?
Discovery searches are web searches on google or google maps searches consisting of general search terms, not containing brand names. A Discovery search could be "Gas station near me" or "Gas station open". There is a great business value to being visible in Discovery searches since it enables for being visible to customers who might not already know what store or product they are looking for.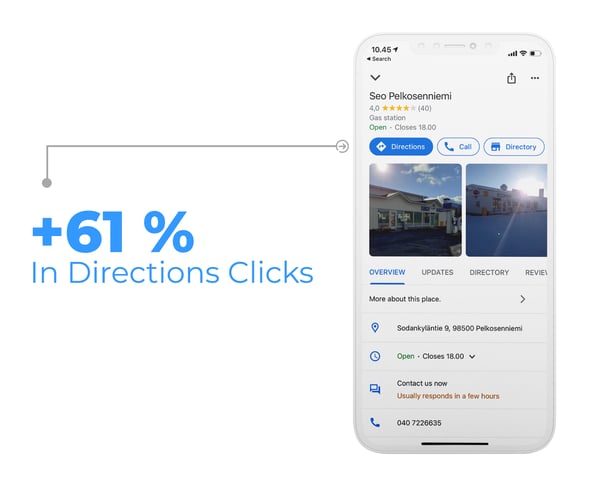 During 2021 the average number of Directions Clicks was +61 % higher than in the period before SEO's onboarding. These stats are just outstanding and we are proud to be able to contribute to such a business value for SEO.
What are Directions clicks?
When a customer has found a closeby SEO gas station through Google, he or she might need to find it through Google's directions function. Therefore, Directions clicks are an important indicator of the actual interest to visit a physical location. If more people are looking for locations for a certain chain, the chain will probably also have more visitors.
Maps Views
During 2021 the Maps Views were +292 % higher than in the period before SEO's onboarding. This is a clear indication that SEO is being shown in map searches while motorists are looking for a gas station.
What are map views?
When someone searches in Google Maps and SEO gas stations come up, one view is counted for every gas station that is viewed. 98% of SEO's visibility on Google is through Maps searches. Therefore, being visible on Google Maps is an essential factor in order to attract more customers for SEO.