When you need coffee, you want to find it nearby – and quickly.

For coffeeshops, this means it's essential to show up in local searches like "coffee near me."

This case study takes a deep dive into how one Norwegian coffee chain improved its local SEO using PinMeTo's location marketing tool.
The process
The first step this coffeeshop chain took toward boosting their online visibility was to integrate all the brand's locations into the PinMeTo platform. PinMeTo's Customer Success Team ensured all the store information was correct on the largest networks such as Facebook, Foursquare, Google, Here, and Apple Maps.

Through PinMeTo's partnerships and relationships with key directories, PinMeTo was able to identify and remove duplicates and inaccuracies, then add correct new listings with accurate and up-to-date business information.

The coffeeshop chain could now maintain the online presence for all their locations from one place – making it easier to provide the accurate, complete data required for increased local SEO.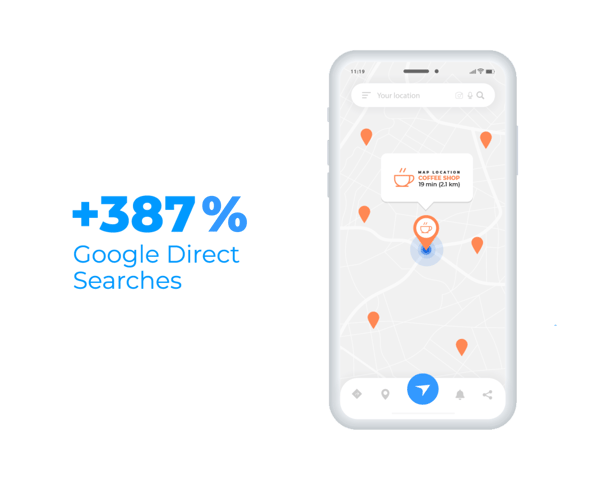 The results
✔ Showing up when people searched for them
Google Direct searches happen when people search directly for a brand. Makes sense, right?
People who search directly have a high likelihood of becoming a future customer. They want to find the brand, and the brand should do everything possible to make sure they can.
In the case of this coffeeshop chain, after onboarding with PinMeTo they saw a year-on-year 387% increase in Google Direct search results appearances – meaning that these likely customers were finding the brand's coffeeshop locations at nearly 3x the rate they were before PinMeTo.
✔ Showing up when people searched for coffee

For brands with physical locations, there's a type of potential customer that's especially valuable: customers who want the product or service the brand offers, but who haven't yet decided on a provider.

For coffeeshops, that could be somebody who knows they want a coffee, and who goes online to search "coffee near me." This kind of search on Google is called a Discovery search. If a coffeeshop can show up in those Discovery results, they have a chance at earning that customer's business.

The coffeeshop chain in our case study earned a year-on-year increase of 510% in Google Discovery results after starting to use PinMeTo to manage its listings. And the results, as the graph below shows, are on an upward trend:
Beyond the numbers
Managing listings has additional benefits beyond what you can see in the numbers above.

Let's go back to the example of the person searching for coffeeshops near them. We've established that they're more likely to end up at a place that appears when they search for coffee. But they'll see multiple coffeeshops in their search results – how will they choose between them?

This is where location marketing strategy comes in. First and foremost, brands need to make sure their listings are completely filled out. If the coffeeshop's Google My Business listing is lacking opening hours, for example, then the potential customer might not feel secure in visiting that coffeeshop, for fear it could be closed.

Reviews, photos, and ratings also play an important role in establishing trust and encouraging customers to visit locations.

With PinMeTo's location marketing toolkit, brands with multiple locations have a centralized hub for managing their listings, communicating with their customers, and managing their brand reputation.
Book a demo below to find out how PinMeTo can help your multi-location brand use its online presence to drive store visits!