Daniel Melkersson, our co-founder, was recently invited to a podcast hosted by Cristian Dina to share his insights with Tekpon followers, a leading software encyclopedia. In this episode, they discussed the importance of local SEO management softwares and how PinMeTo, a software designed to help businesses optimize their online presence and attract more customers in their local area, helps multi-location brands.
Let's go through the highlights.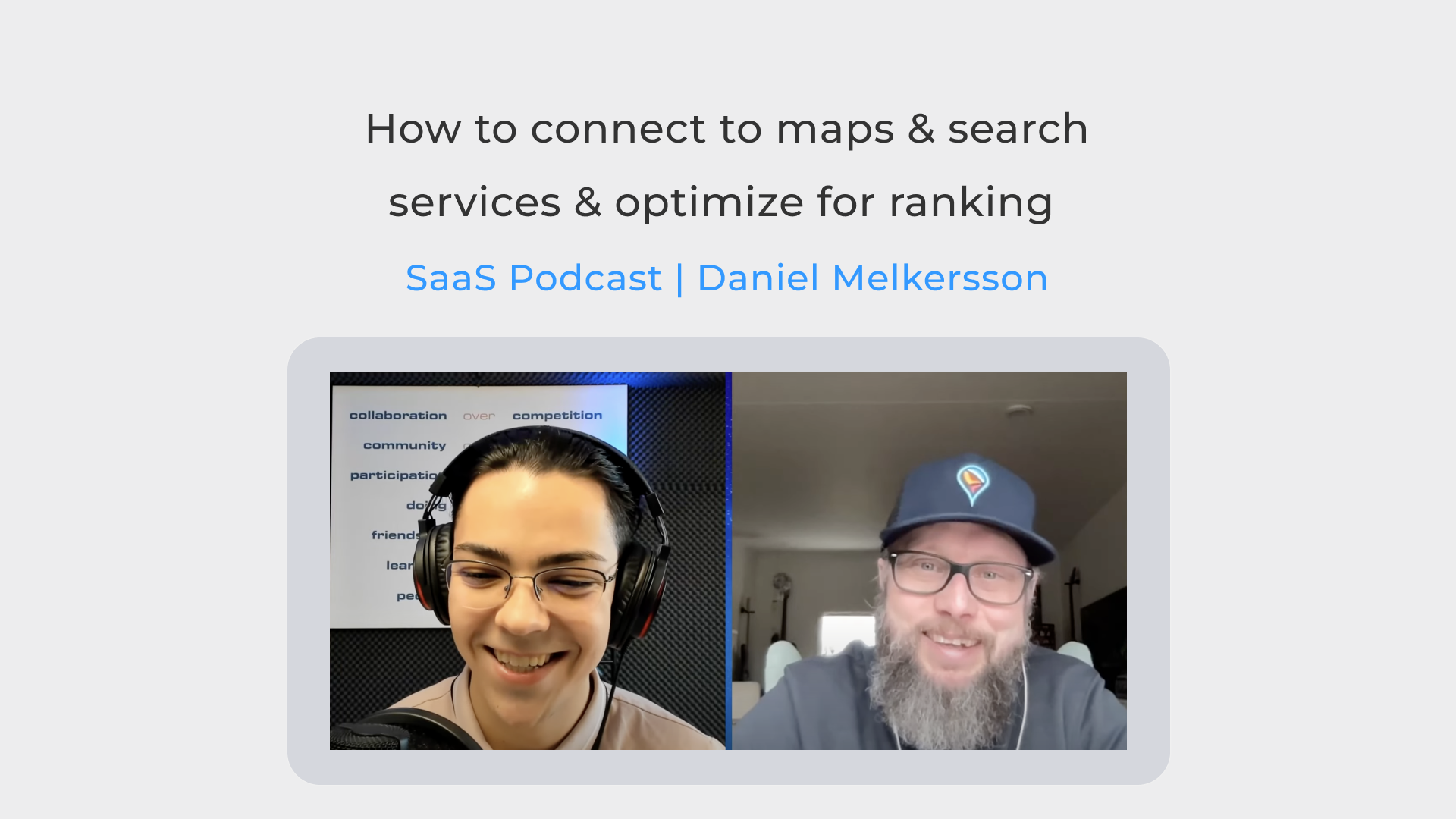 What does PinMeTo local SEO management software do?
Local SEO, as the name suggests, is the process of optimizing your website, listings, and other assets to attract local customers. This is especially true for businesses with physical locations or that serve a specific geographic area. Businesses can rank higher in local search results and attract more customers who are looking for products or services in their area by optimizing their online presence.
During the podcast, Daniel Melkersson shared insights on how PinMeTo helps businesses improve their local search rankings. The tool provides businesses with comprehensive insights of their online presence and makes bulk updates of their locations, including their Google Business Profile and other local directories. Our team also provides actionable tips on how to improve brands' online presence and attract more local customers.
"The biggest problem we're trying to solve is to help our customers win over the competitors and make sure that they go to them and buy whatever they want to buy or visit them for other reasons." - Daniel Melkersson
One of the key benefits of our local SEO tool is that it saves businesses time and effort by automating the process of optimizing their local presence. This means that businesses can focus on running their operations while PinMeTo takes care of their listings, reviews, and other needs. Additionally, PinMeTo provides performance insights, allowing businesses to track their progress and make data-driven decisions.
How are we different from our competitors?
"The biggest difference between our competitors and us is that they are providing technology not only for chain businesses but also for really small SMBs. So, we have focused only on Enterprise multi-location businesses. Our entire technology is built towards helping larger companies with many locations." - Daniel Melkersson
How did our growth strategy impact our users?
"I think the best thing we've done is to separate the SDRs and sales managers from customer success, so as soon as we close a deal, they leave it to our customer success team to guide our new users. No one in sales sticks around with becoming a key accounts manager in any way, and they focus on getting new brands in. I think this is the best tactic we have done to separate different parts, especially taking away the responsibility from the salesperson as soon as the deal is closed and giving it to customer success so that salesperson can go back and get new customers."
"We're gonna keep growing and making sure that we are the go-to technology for multi-location Enterprise Brands globally. We're growing at the moment very industry-wise, so we grow in one industry at a time. So, we want to be the best in the world at what we do." - Daniel Melkersson
During the podcast, Daniel and Cristian also discussed the best practices for local SEO, including the importance of consistent NAP (Name, Address, Phone Number) information across all online directories and the importance of getting customer reviews on Google Business Profile. They also discussed the latest trends in local SEO, including the growing importance of voice search and the rise of "near me" searches.
If you want to learn more about:
PinMeTo's location management platform

Our integrations with various search networks and social media platforms

Our focus on enterprise-level businesses

Daniel's background as a musician and entrepreneur

Why founders should trust their instincts and avoid relying on outside advice too much

,
Watch the full episode
The PinMeTo Review and the podcast with Cristian Dina provided an excellent opportunity to share insights and lessons learned about local SEO and our local SEO management software. We look forward to continuing the conversation with Tekpon and other experts in the field, as well as helping more businesses improve their local search rankings.
Looking for ways to boost your foot traffic?