You can claim your Google Business Profile directly on Search or Maps
Type your business name in the search bar

Click on the option to verify your business profile

Once it's verified, add the necessary details: opening hours, correct address, etc.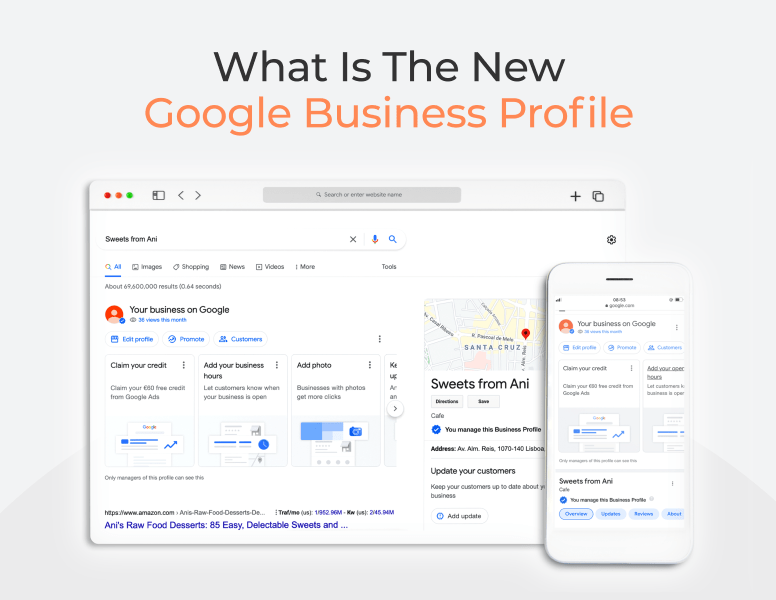 In our opinion, this is a better user experience and can help marketers save some precious time. Apparently, Google is putting more and more importance on Google Business Profile, pushing businesses to keep their profiles optimized and active with regular Google Posts. More updates and changes are expected in the near future, and we can't stress enough how important it is and is going to be to ace your GBP game.
My prediction is that over time Google will prioritize Business Profiles over websites - as long as it's more relevant, of course. Searchers won't see the need to click on the website if they get all the necessary information from Google: store location, opening hours, reviews, updates, chatting and calling options. Thus, local and multi-location businesses need to get better at local SEO and online reputation management to rank higher. Soon we might even say goodbye to on-site optimisation.
Says Erik Andersson, Head of Marketing at PinMeTo.
Respond to customers from your Business Profile
One more indicator that Google wants to keep everyone on their platform is improving the communication functionality so that your customers don't have to go to your social media pages or your website to find a way to contact you. Last year Google made it possible to chat with customers directly on Google Maps. Now, it's possible to interact with your customers right from your Business Profile on Google Search. Be aware, now both parties can see read receipts, so you know whether your message was received and seen.
Let's not forget about the calls from Google!
Yes, even some Gen Z and millennials still make calls, and it's a great way to establish better relationships with your customers and make it faster for them to book a table at your venue, ask questions or even share their feedback. Now, Google made it easier to analyze and measure calls too. With call history, you can see which calls came from your Business Profile. Even though it's only available for the U.S. and Canadian merchants, it's predictable that this feature will be available in more countries in 2022. Who knows? Maybe video sales will also be an option someday.


Rebranding obsession - Google glossary
Brands can't stop renaming their products in 2021, and it can be hard to keep up. No panic! Not much has changed here:
Google Business listing or Google My Business is now called Google Business Profile.

Google My Business account will be Business Profile Manager.
Let's not focus on the terminology, but on the value, your business can get with Google's new features.

Those who use the Google My Business API have nothing to worry about. Nothing has changed, and it's only going to get better with the expected additional updates in the future.
PinMeTo has got multi-location businesses covered. Reach out to us if you have any questions or want to learn more about our local SEO tool.