The mobility industry keeps evolving to meet growing customer needs, and local maps marketing now plays a big role. Because of the industry's convenience-based customer journeys and low brand loyalty, SEO is critical for acquiring customers.

That is why businesses in mobility like gas stations, EV charge points, parking facilities, etc. that have multiple locations are leveraging mapping platforms like Apple Maps, Waze, and Google Maps to stay competitive by making it easier for customers to find them, get directions, and even see what traffic is like, all in real-time. Let's dive deeper into how today's key mapping and navigation apps can be leveraged for your local marketing efforts in 2023.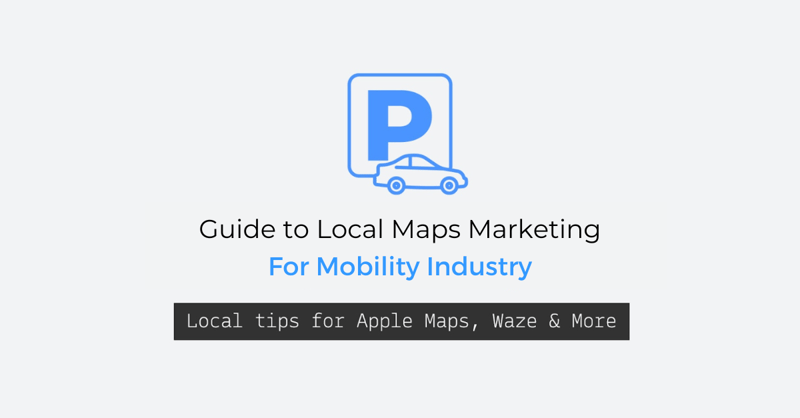 Why Does Local Maps Marketing Matter?
In the world of mobility, time and convenience are of the essence, therefore being visible and easy to find on mobile map services is key to connect to customers that are on the move. Mapping apps not only provide directions but offer real-time navigation, traffic updates, and location-specific business information.


85% of all gas station views are on maps and not general search, while 90% of gas station searches on mobile maps result in a purchase.


The Key Mapping Apps for Mobility Players
1. Apple Maps and Apple Business Connect
Even though Google Maps is the most popular search engine, Apple users are 3 times more likely to use Apple Maps. It was previously heavily reliant on third party data like Yelp or TripAdvisor for location reviews. Since January 2023,

Apple Business Connect

allows businesses to interact and communicate directly with customers through the Apple Maps app - it's like Apple's Google Business Profile (GBP).

They recently announced that in iOS 17, Apple Maps will provide real-time EV charging availability information to help EV drivers find stations: they will be able to

filter the charging network and plug

type after installing the service. This, along with the

Offline Map feature

and other key functionalities,

will be launched this autumn.


Apple Maps features to consider for Mobility players:
Siri Integration: Apple Maps integrates with Siri, allowing for voice commands and questions. This is a game-changer for the accessibility and ease of use for customers who search via voice on the move.
Indoor Maps: For airport transportation or car rental, indoor mapping can guide your users within terminals.
Apple Business Chat: Enables direct communication with your customers, key for addressing immediate travel needs.
*

Local Tip
: If your business aligns with sustainability or eco-friendly practices, emphasize these values within your Apple Maps listings. Highlight services like electric vehicle rentals or bike-sharing, and use Apple Maps' eco-friendly route planning to provide additional value.
---
2. Waze
Waze emphasizes real-time traffic updates and community-driven insights like real-time traffic and road information based on user reports. The app is owned by Google that has also been offering businesses Waze Ads. They have allowed to promote locations directly within the app, helping to attract nearby drivers and increase foot traffic.

By the end of August 2023, existing Waze campaigns will be replaced by Performance Max (PMax), Google's AI-driven ad powerhouse as announced by Chris Philips, the VP and GM of Google Geo. This is bound to redefine the digital advertising industry, especially for businesses seeking to tap into Waze's user base.
Waze features to consider for Mobility players:
Community Engagement: Engaging with local drivers can create a network of loyal users, especially for ride-sharing services.
Real-time Updates: Waze allows you to update road closures or other alerts relevant to your locations, keeping customers informed.
Local Ad Pop-ups: Tailor advertising to local events and traffic patterns, guiding customers to your nearest location through Google's powerful ads.
*

Local Tip:
Foster community relationships by actively participating in Waze's community, creating localised promotions, and using real-time data to enhance customer experience.
---
3. Google Maps
As the leading local search platform, Google Maps offers extensive search capabilities, integration with Google's suite of services, and global coverage. According to Google, businesses with optimised Google Business Profiles (GBP) are x2.7 more likely to be seen as trustworthy by customers, and receive 70% more visits.
Google Maps features to consider for Mobility players:
Google Business Profile Integration: Manage multiple locations efficiently, offering promotions, updates, and insights. Find the key ways to leverage your GBP in our Complete Google Business Profile Guide.
Street View: Showcase your locations with Street View integration, giving customers a visual cue.
Local Search Ads: Target ads based on user search and location, drawing nearby customers to your mobility services.
*Local Tip:

Leverage Google Business Profile description bar to add your local keywords into your listings.

Other Mapping Solutions
In-Dash Navigation
In-car navigation partnerships today not only provide additional exposure for rental and ride-sharing services but also present an ecosystem that streamlines a user's experience. Integration with real-time traffic, parking solutions, and easy booking enhances the driving experience.

What's even more impressive is that for Apple users, when using features like Apple Maps, CarPlay, or Siri, data automatically syncs to the in-car navigation, ensuring consistency and increased visibility across platforms.


GPS Devices
As the digital mapping world expands, traditional GPS devices still hold their ground. Brands like TomTom and Garmin appeal particularly to travellers and older demographics.

Collaborating with these brands offers the potential to reach segments that might not be covered by smartphone-based platforms, thereby increasing your local visibility and reach.
Ready for Location Marketing Made Simple?
Leverage Listing Management Automations
Use technology to streamline the control and consistency of your business data across multiple locations and services. Through local search automations like PinMeTo, you can minimise manual tasks, make bulk updates and monitor online presence of each location from one centralised dashboard. With PinMeTo you can:


Schedule Temporary or Permanent Open Hours: This is especially helpful for businesses that may have seasonal changes, special events, or varying schedules for different locations.
Make Real-time Updates: If there are sudden changes, like a temporary closure or change in services, these can be immediately reflected across all platforms.
Manage Visibility in All Major Platforms: PinMeTo integrates with major mapping, navigation and business listing platforms like Google Maps, Apple Maps, Waze, TomTom and 100+ more, ensuring that changes are synchronised across all channels.


Read the case study of a leading parking facility provider in Nordics, Aimo Park that got 60% more Direction Clicks in 6 Months with PinMeTo.

To Sum Up
Local maps marketing is no longer optional for the mobility industry. The integration of Apple Business Connect, Waze, Google Maps, and other navigation tools is essential for providing real-time, accurate information to consumers on the move. By embracing these platforms and following best practices, you can foster trust, drive growth, and remain on top of the ever-evolving online landscape.
Looking for ways to level up your Local Visibility?
Give us an overview about your business below and we'll prepare a free local visibility audit
Lily Adamyan, August 10