We are thrilled to announce that now you can share Google Posts in bulk via our Posts product. Google just released an update in their API allowing businesses to post to multiple Google Locations at once through PinMeTo dashboard.
What is Google Posts?
Launched in 2017, Google Posts are short, social feed-like updates that can be published in a form of text, URL, photo or video. You have up to 1,500 characters for the details of your post, but the ideal length is between 150-300 characters. This is a great way to share fresh, up-to-date content with your local customers since searchers can see your posts directly on Google Maps and in the Knowledge Panel - the box that appears to the right of the search field when someone looks up your business.
Up to 10 posts can appear in the scroll-through carousel within the Knowledge Panel, but having only one post might look even better as the image will not be cropped by Google. It enables small businesses and large chains to share news, updates, offers and more.
Here is what searchers will see on mobile when they Google your brand name. It will appear in the last part of the Knowledge Panel and your Business Profile.
Why should you use local content on Google?
Google is one of the first places your customers look when they want to find information on your opening hours, location and offerings. Google Posts are designed for people who are already looking for you, so you need to customize your content based on the search intent.
With Google Posts, you can increase visibility and engagement with minimal effort. It's a great way for readers to get some information about your business before they click on your website or visit your location. Different people prefer different types of content, and it makes sense to take full advantage of all Google My Business and Knowledge Panel features to provide compelling information on your business.
Google gives readers the option to share your business posts. If you create local posts with offers, news or other sharable content, you will reach more people and eventually get free organic traffic. Look at Google Posts as free advertising and a great way to engage with your audience right in search. Lucky for you, many businesses underestimate the importance of Google My Business, which gives you a chance to stand out and beat the local competition.
Does posting on Google My Business help SEO?
Posting on Google My Business is a great way to improve your local SEO strategy and generate more organic traffic. The more you post on Google, the more chances you get to build up your page rankings, get more clicks, collect user information and substantially increase organic traffic to your website.
A high click-through rate from your local Google My Business listings to your website is going to help your rankings too, since this "behavioral signal" is a key Google local search ranking factor. Google My Business Signals is the largest local pack ranking factor with a share of 25.12%, while the remaining 7 factors have less of an impact:
Link Signals: 16.53%

Review Signals: 15.44%

On-page Signals: 13.82%

Citation Signals: 10.82%

Behavioral Signals: 9.56%

Personalization: 5.88%

Social Signals: 2.82%
How can you use PinMeTo to publish Google Posts?
Google My Business only allows you to post to one location at a time. This can be very time-consuming if you manage multiple Google My Business locations and want to share posts to all your locations at once. The only way, so far, was to do it manually, which can be frustrating for multi-location businesses. Now, you can use PinMeTo Posts product to customize, localize and post to thousands of locations with one click.


How to create Google Posts
Sync your Google My Business locations with PinMeTo platform

Go to Posts - Create post - Google - Post type: Standard

Select the locations and write tailored content for each location

Add an image, link or a phone number

Click "Publish"


Need more assistance? Here are the steps with screenshots: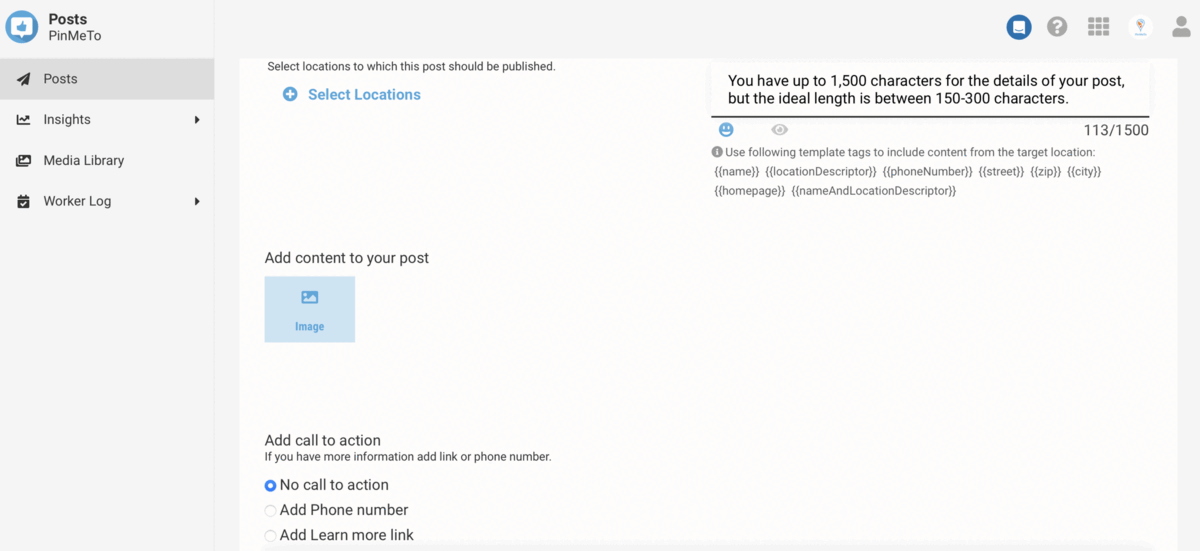 There you go! Now you can easily create Google posts and share them to multiple locations at
once. In addition to this, PinMeTo supports Facebook and Instagram.