Google Business Profile (formerly known as Google My Business) is a vital tool not only for businesses but also for municipalities and non-profit organizations. In short, it's like a virtual phonebook. Google Business Profile (GBP) let's local searchers find necessary products and services, which means you need to be visible online and boost your rankings to appear at the top. How else are they supposed to find you?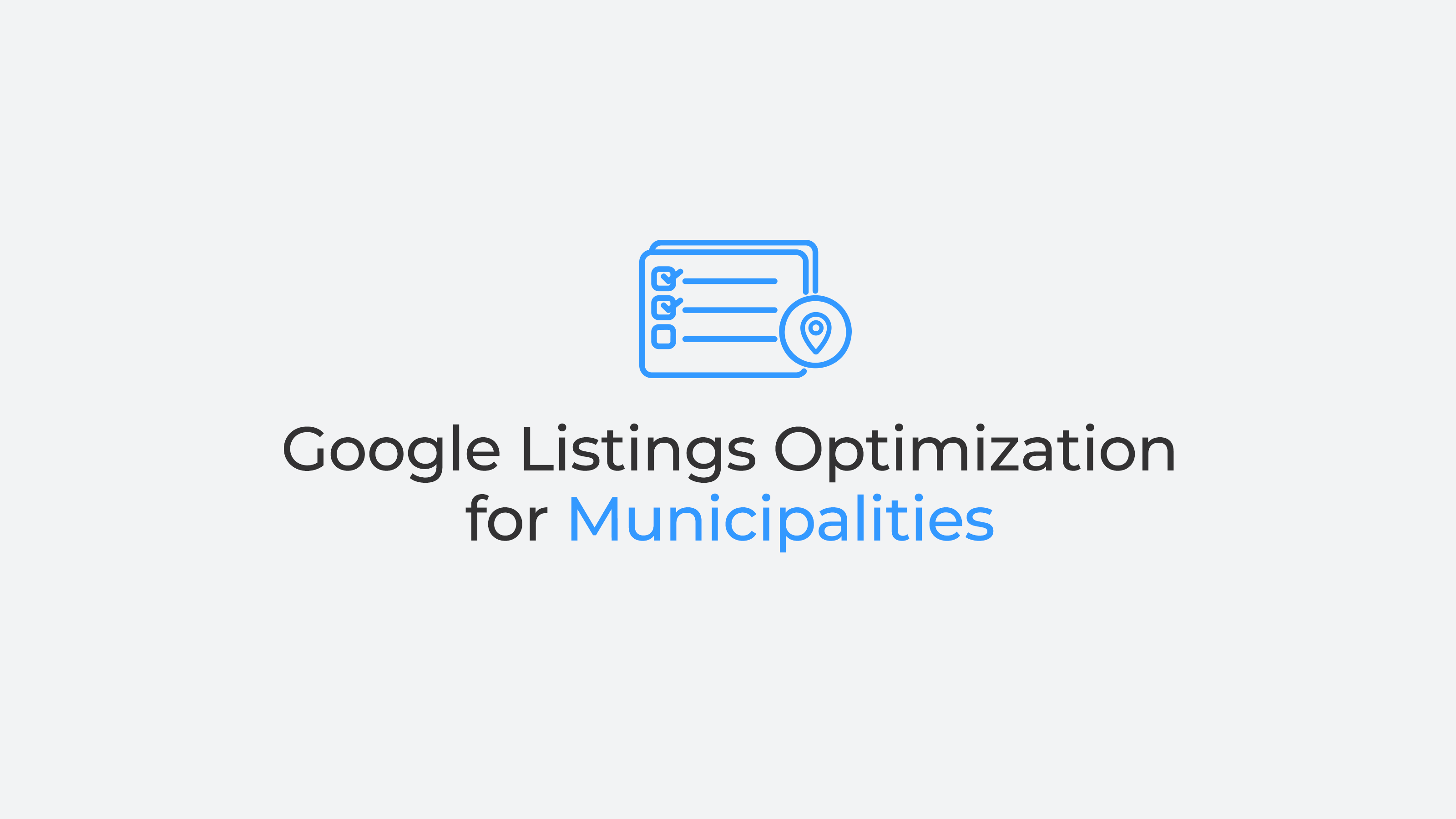 Local Google Business Listings are essential to help citizens and tourists find local libraries, hospitals, sports centers, and more. When someone is looking for a service, Google is often their first stop. If locals can't find your listings online or get sufficient information about the exact floor, opening hours, or limitations, chances are they will get frustrated with your services and leave bad reviews or simply choose another service provider. Having all your location listings updated with consistent and up-to-date information will help you rank higher and gain visitors' trust.
Here are a few reasons you should use Google Business Profile for your municipality units:
It's free
Helps community members find your services
Saves your team's time
Improves your search visibility
Improves your public reputation
It's a new channel to post news & events
Collects reviews and saves you from angry calls
Lets you share contact information, opening hours & more
Provides a direct communication channel
Provides online search insights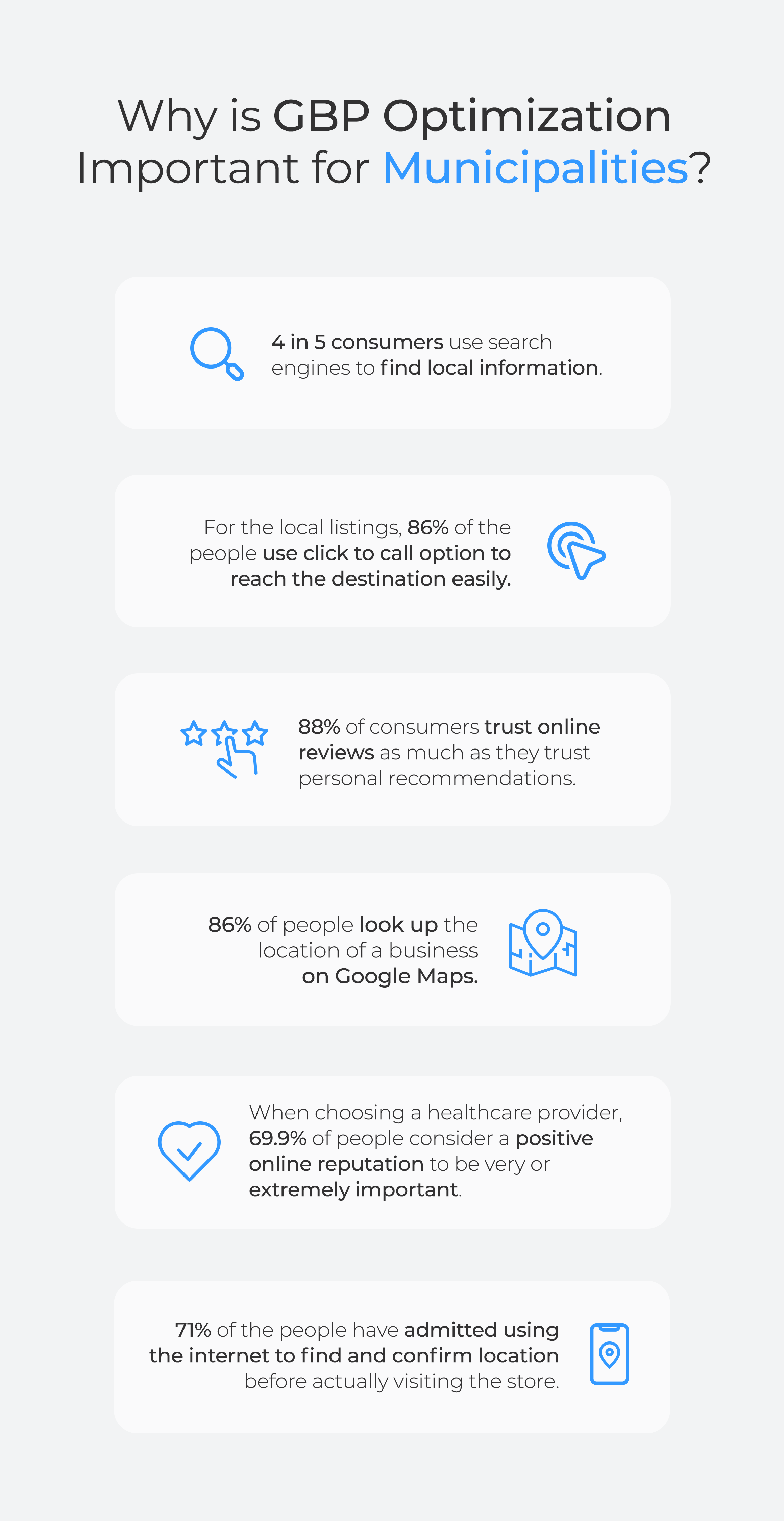 How to start using Google Business Profile for your municipality?
Create a Google account
Choose the right business category
Add details like your phone number, address, name
Verify your listings
Add accurate information, photos and attributes
Add a description of all the services you provide at that location
Share news and announcements
Keep an eye on your reviews and respond to them
Set up messaging
Analyze, learn and iterate
How will the municipalities and the locals benefit from this?
We know that providing a better service for the local community and visitors is a priority, and every municipality works hard to do the best job possible. Yet, there is room to improve public reputation and gain trust in municipalities and the services they provide. After all, if people can't find what they need online, you're playing right into the stereotype that government bureaucracy is outdated and uncaring.
Municipalities will:
Save more work time
Avoid thousands of angry calls from people who missed their appointments due to not finding your location
Avoid repetitive calls asking about the same information
Improve the public perception of the services you provide
Attract more tourists to the region.
The community, on the other hand, will:
Feel heard since they get a response to every message and review
Visitors will easily be able to find necessary services
Locals will trust public hospitals and schools thanks to online reviews, which are nowadays's word of mouth.
Being visible online and putting in consistent work to improve your online image has become a requirement for all kinds of organizations. Municipalities will clearly put taxpayers' resources to better use by optimizing how they serve their communities. And the good part is as much as you help the community to be satisfied with public services, they also help you improve by leaving reviews, sharing the information, responding to your updates, and more.
Sounds like a lot of work? Do you have multiple locations to optimize? There is a way to optimize that process!
Astghik Nikoghosyan, November 29, 2022