As businesses continue to lean into digital, managing online listings across multiple locations becomes increasingly important. Key to successful digital marketing strategy is following Google's guidelines for business profiles, especially when it comes to naming your listings on platforms such as Google Business Profile and Google Maps. With a focus on multi-location brands, we will explore how these guidelines work, helping you to maximise visibility and maintain compliance.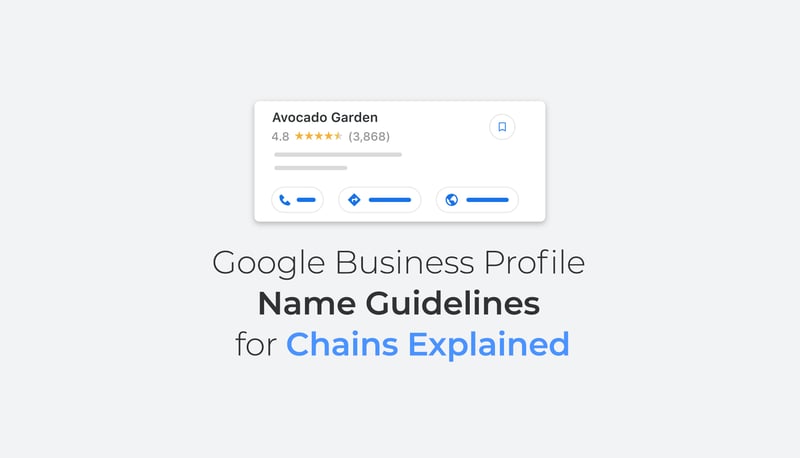 Google's Business Profile Name Guidelines
The simple rule of thumb is: if it's not part of your actual business name, it shouldn't be part of your Google Business Profile name.
The names you use for your business profiles should be the same or very similar to the real-world name your customers recognise. This principle is straightforward for businesses with a single location, but for multi-location chains, it introduces a layer of complexity.

Google explicitly states in its guidelines that "including unnecessary information in your business name is not permitted." This means no marketing taglines, store codes, special characters, or business hours.


How to Handle Multiple Locations?
For chains with multiple locations, the question often arises whether to include specific location information (like city or neighbourhood name) in the business profile. Google's guidelines make it clear that you should only include this information if it's part of your official business name.
Here's An Example
Let's imagine you own multiple Starbucks locations across the Nordics. The question that arises is how to name these business profiles according to Google's guidelines.

If your specific branches are officially named with their city, like "Starbucks Stockholm" or "Starbucks Helsinki," you can indeed include this in your Google Business Profile and Google Maps listing. But for a standard "Starbucks" branch located in Oslo, the location detail - "Oslo" - should not be added to the name.

Google will handle the geographical aspect based on the location data you provide during setup. This ensures that your Oslo branch shows up when someone searches for "Starbucks in Oslo" and so forth.

Understanding Google Maps' Naming Guidelines
Much like Google Business Profile, Google Maps relies heavily on accurate, straightforward business names. Consistency between these platforms is crucial; what applies to one generally applies to the other.

The same rules apply on multi-location chains. Names must reflect the business's real-world name and should not include unnecessary information. Any location details should be part of the official business name.


Showing Accessibility
For businesses open to the public, Google Maps encourages including accessibility details within the business description - not the business name. This detail can make your business more visible to customers with specific accessibility needs.


The Impact of Non-Compliance
It's worth noting that non-compliance with Google's guidelines can have significant consequences. From lower search visibility to having your business profile suspended, Google takes the accuracy and integrity of its business listings seriously. Regularly review Google's guidelines to ensure your business stays on the right side of their rules.
Ready for Location Marketing Made Simple?
To Sum Up
Compliance with Google Business Profile name criteria for multi-location listings may appear complicated, but the benefits are great. By keeping your business names consistent across platforms and removing extra elements, you position your brand for optimal online visibility and legitimacy. The cornerstone of a successful online presence in this context is threefold: consistency, accuracy, and adherence to guidelines.
Looking for ways to level up your visibility on Google?
Give us an overview about your business below and we'll prepare a free local visibility audit
Lily Adamyan, July 27