As the number of electric vehicles on the roads continues to grow, the demand for EV charging stations follows suit. In fact, the global EV charging station market size is expected to reach $103.6 billion by 2028, growing at a CAGR of 39.1% from 2021 to 2028. This article will provide useful tips and insights on how to build a powerful EV charging marketing strategy in order to stand out in this competitive landscape.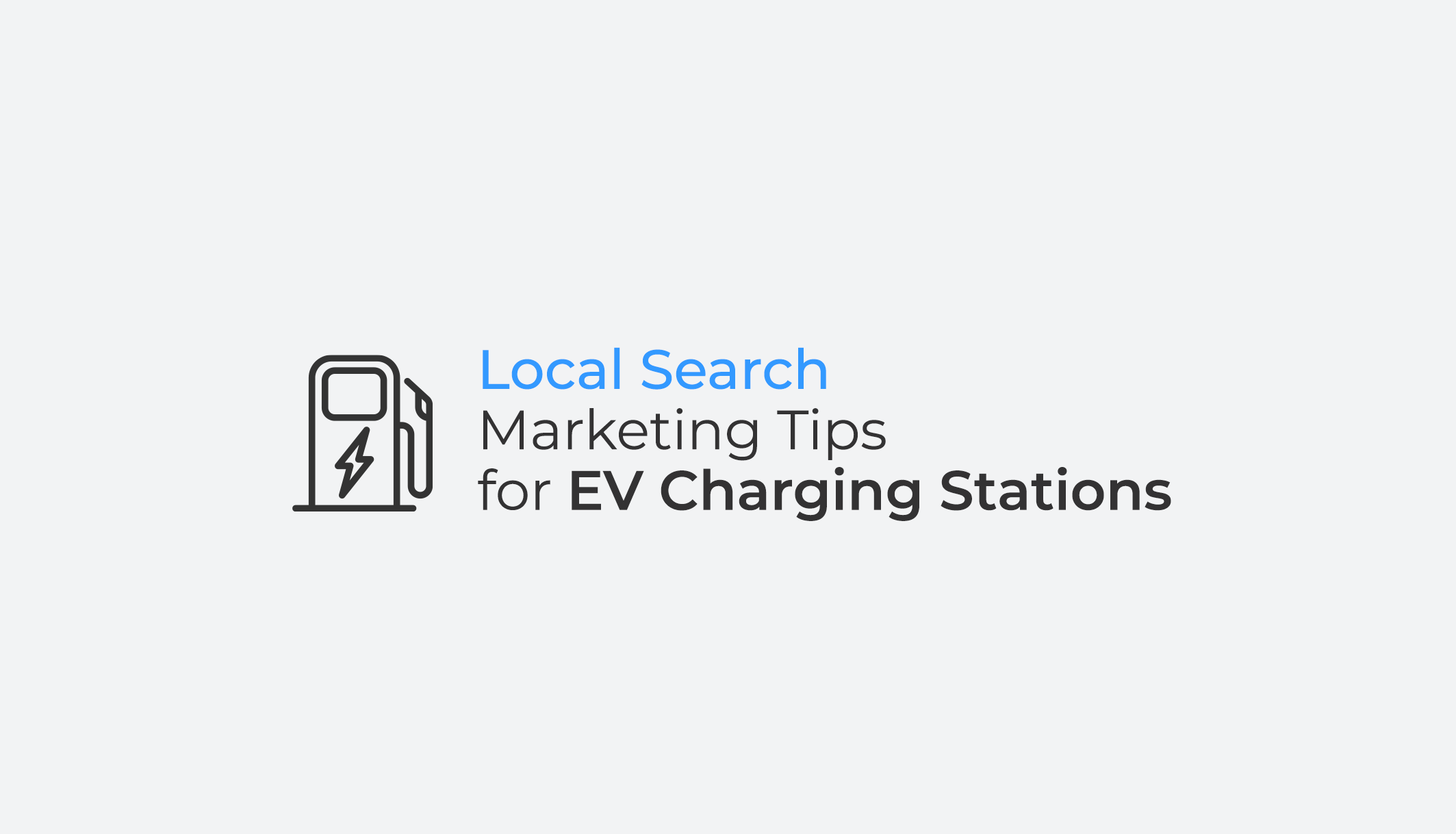 What to Consider First
To craft a strong local marketing strategy, it's worth to keep in mind the unique characteristics of the EV charging market.

EV owners who pre-plan charging stops need precise location data. Thus, all your EV charge point locations should be optimised to appear in the nearby results.

Real-time updates about station availability, operational hours, charging speed, and connector types can be of great value in order to help the drivers to make informed decisions.

That's why highlighting facilities and amenities like fast charging options, available connectors, restrooms, food, and shopping outlets can attract more people and improve your customer experience.

Let's now explore the 8 tactics we've put together for your EV charging stations local search marketing.


1. Focus on Google Business Profile (GBP)
Your Google Business Profile is a powerful tool for local search visibility so make sure you use it to the fullest. Optimize your EV charging station's profile by:


Ensuring accurate and consistent NAP (Name, Address, Phone Number) information
Choosing relevant categories ("EV Charging Station")
Adding a well-written description with relevant keywords
Uploading high-quality photos of your charging station and amenities
Use the Q&A feature to answer common questions about your charging station like charging speed, accepted payment methods, or compatibility with specific EV models.

*Tip: Customize your GBP listing with relevant attributes, such as "wheelchair accessible" or "24/7 availability" to better serve the unique needs of your customers.

Learn more about how to optimise your GBP in our Complete Google Business Profile Guide.


2. Expand Beyond Google
GBP is a priority, but being active only on Google is like planting seeds in a single pot. While it may yield results, expanding your efforts to other platforms can be way more fruitful.

Use platforms like Apple Maps, Bing Local, Yahoo Local or Foursquare to promote your business and collaborate with popular traffic and industry-specific platforms like Waze, PlugShare and ChargeHub so you maximise your reach to potential customers.

*Tip: Engage in online forums and discussion groups related to electric vehicles and charging stations and present yourself as a good choice for your potential customers.


3. Gather And Manage Reviews
It's no secret that online reviews are essential for both ranking and conversions. Encourage customers to leave reviews on the platforms where you have placed listings, especially Google, and respond to both positive and negative reviews to demonstrate that you value customer feedback.

Check out our article about how to Monitor Online Reviews Effectively to make sure you got all bases covered.

*Tip: Automate online review monitoring to find and respond to reviews from multiple locations easily. Explore Reputation management softwares like PinMeTo that allow to manage all reviews from one dashboard.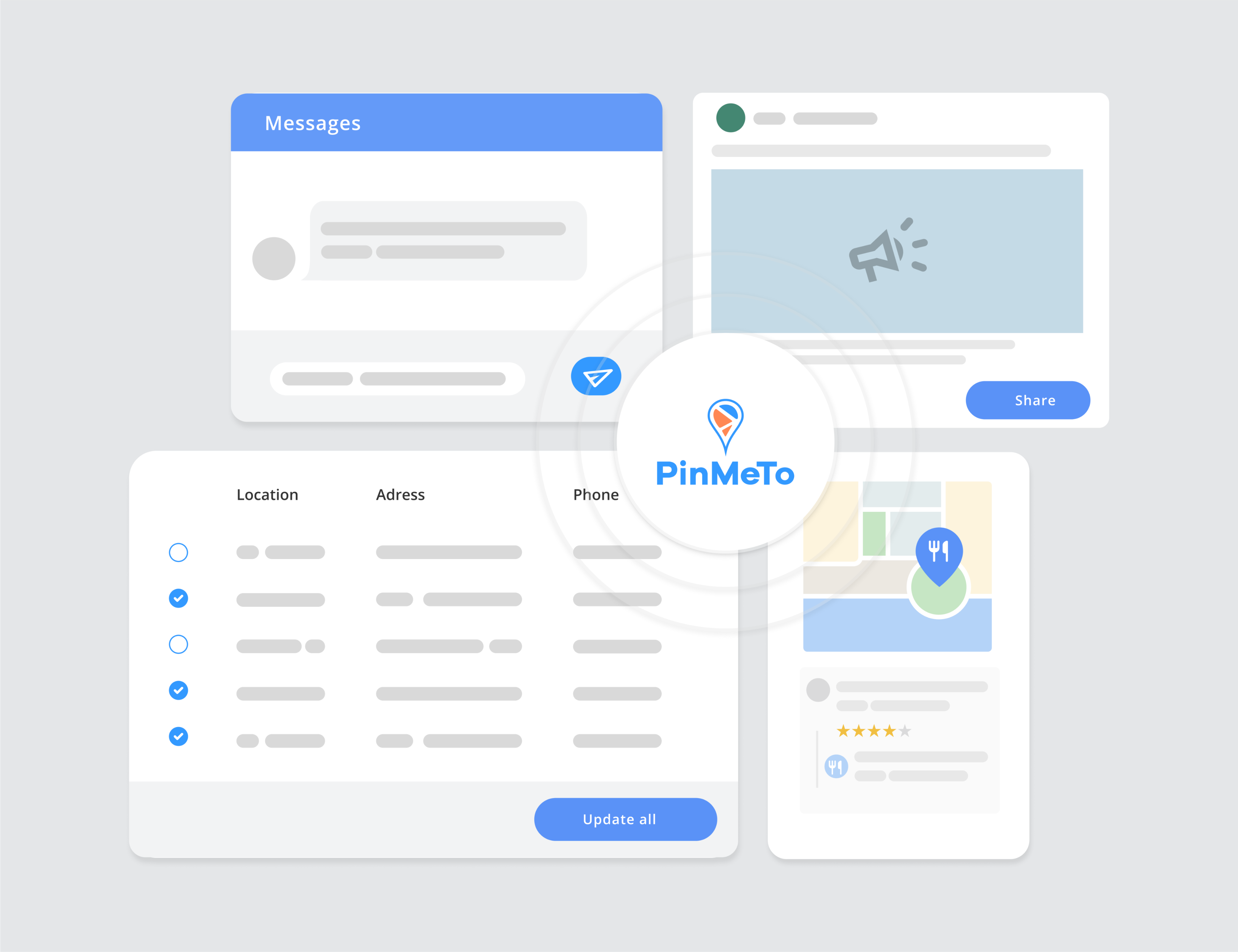 4. Do On-Page SEO
Here are a few on-page SEO tips for EV charging stations to enhance your online visibility:


Include relevant keywords in title tags, meta descriptions, and headings
Provide detailed and valuable content about your charging station and services
Create dedicated pages for each service you offer (e.g., Level 2 charging, DC fast charging)
Ensure proper internal and external linking to and from your local listings pages
Use advanced analytics tools to monitor key performance indicators, such as organic search traffic, local rankings, and conversion rates.

*Tip: Dig deeper into local keyword research to find queries with high and clear intent to find an EV charging station. Optimize content for natural language queries and long-tail keywords for voice search.


5. Leverage Real-time Data and Integrations
Consider providing essential, real-time charge point data in navigation apps and in-car systems to provide a great EV driving experience and alleviate the range anxiety which affects 57% of EV drivers.

Thanks to the partnership with the leading data provider EcoMovement, you can use PinMeTo's local search automation tool to showcase real-time availability and power data on major in-car navigation systems, EV charging apps, and map platforms for all your stations easily through one centralised platform.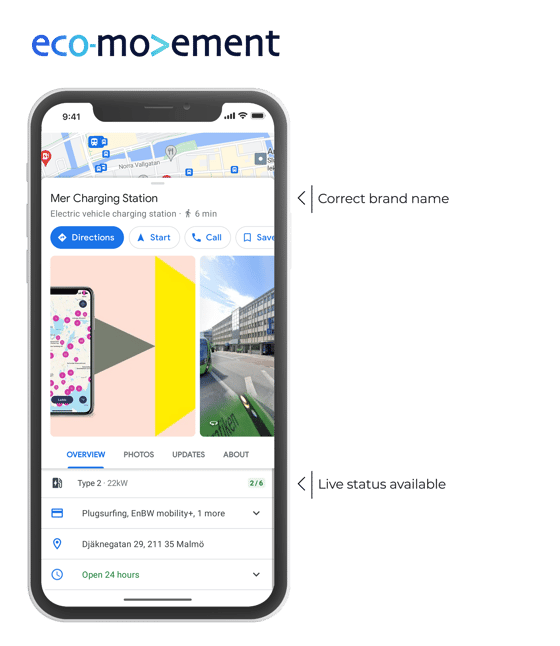 6. Build Local Citations and Links
While the overall importance of link signals may be decreasing, locally relevant links remain valuable. In other words, obtain inbound links to your listings from locally relevant domains like business directories, news websites, or community blogs to strengthen your local SEO.
Keep in mind that consistency in your NAP information across various online platforms is crucial, so make sure you maintain accurate and up-to-date location data and citations in all local business directories and industry-specific platforms.

*Tip: Pitch stories about your EV charging station's initiatives to local newspapers, magazines, and radio stations, earning coverage and high-quality backlinks.


7. Create Localised Content
Develop content that appeals to local audiences like blog posts about the environmental benefits of electric vehicles, charging stations how-to's, or local sustainability initiatives.
This can not only demonstrate your brand as trustworthy but also help improve your search rankings and establish your business as a local authority in the EV charging space.
Make sure to have a comprehensive FAQ page based on customer inquiries and add it to your local landing page dedicated to a specific spot or area where your EV charger station is located. Learn more about local landing pages and why they are important for your online visibility.

*Tip: Create multimedia content like video tutorials, infographics, and interactive maps to engage your audience and improve your search rankings.


8. Stay Up-to-date with EV Industry
Use modern tools like Google Trends to identify relevant topics and search terms in the EV charging station market, such as "fast charging" or "EV charging station locations."

Make sure to monitor competitor activities and adjust your strategy accordingly. For example, if a competitor launches a new fast-charging station nearby, you may need to adjust your EV charging marketing strategy to highlight other features, such as convenient amenities or pricing.

*Tip: Follow Local SEO influencers on social media for the latest trends, algorithm updates, and best practices. Commenting or sharing their content helps build relationships and stay top-of-mind with other field experts.


To Sum Up
The growing popularity of electric vehicles means that demand for EV charging stations is increasing, making it a highly competitive market. By optimising all charge point locations, providing real-time information, expanding beyond Google, and working on on-page SEO, you can enhance your EV charging stations' local search ranking and increase visibility. Also, leveraging real-time data and integrations, building local citations and links, creating local content, and staying up-to-date with industry trends are all essential for online success. This way you can stand out and offer a superior experience for EV drivers, ultimately contributing to a cleaner and more sustainable future for all.
Looking for ways to step up your marketing strategy?
Let's Get Started
Lily Adamyan, April 4