Considering that the majority of consumers report doing online research before buying any products or services, appearing in online searches should be a high-priority goal for your business. While there are a number of actions to take to increase your online visibility, the first one must be registering your profile on Google, Apple, and other search engines.
If you are wondering why not just go with Google, consider the following:
While Google Maps is a leading platform for online search, Apple users are 3 times more likely to use Apple Maps providing you access to a new demographic of users.

On iPhones and iPads, Apple Maps is the default mapping app.

Siri voice searches are usually supplied by Apple Maps.

Disregarding all Apple users and Apple Maps searches means missing out on a potential new consumer base.



So, how do you put your business listings in front of the eyes of iOS users? It has to be through Apple Maps optimisation to improve your local rankings. We've put together an easy guide to help you get started.
How to Claim Your Apple Listings
Step 1
To register or claim your Apple Maps listing, go to Apple Business Connect. It's similar to Google Business Profile but created for Apple. The registration process is pretty straightforward. Sign up or log in with your Apple ID to get access to the Apple Maps tool.
Step 2
Look up your business using the search function. You might already see a listing or so-called place card set up for your company, but it's important to claim and take control of your listings. Add the correct details, keywords, and links that will benefit your online presence. Start with the basics: your business name, phone number, and address.
*Apple Business Connect's verification process usually takes up to 5 business days.




Step 3
Once you create or claim your listings, it's time to take your optimisation game to a new level. The rules are similar to Google Business Profile optimisation. Include relevant keywords in your profile, add detailed descriptions of your products and services, and update your opening hours.
Step 4
To simplify the process for multi-location businesses PinMeTo partnered with Apple enabling the use of Apple's Business Connect API. Our integration with Apple can help you update your Apple Maps listings with up-to-date and accurate information at scale.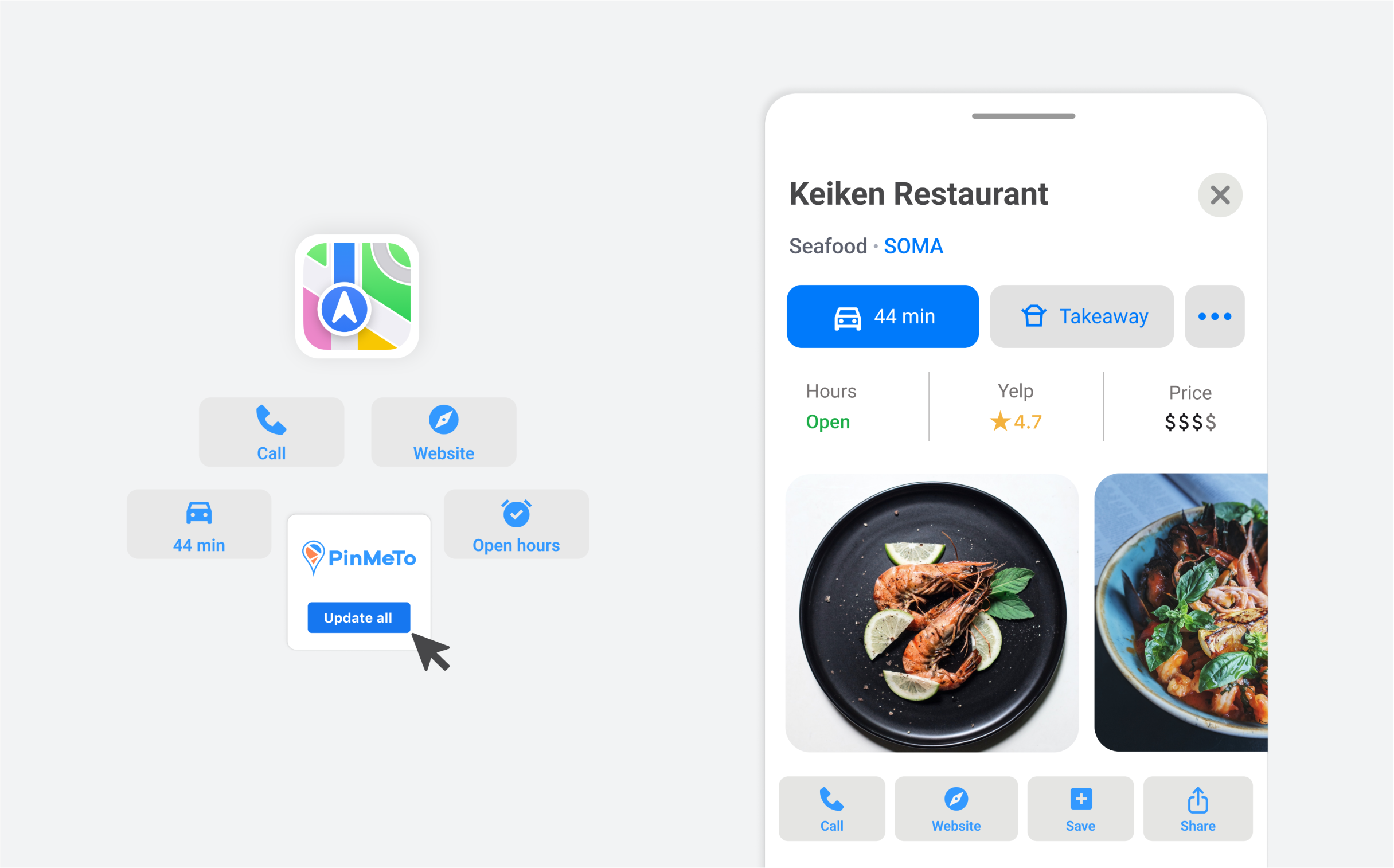 Apple Maps Business Listing Optimization
Google Business Profile optimisation best practices and ranking factors are similar to Apple Business listings optimisation. You can learn more about keyword strategy and local ranking factors from our local SEO blog, BUT there are some nuances to consider when dealing with Apple Maps.
Reviews on Yelp
It's important to know that Apple doesn't independently collect a lot of data if you compare it to Google. This means your business has to set up and be visible across multiple platforms to improve your rankings on Apple Maps. For example, Yelp reviews get featured on Apple Maps place cards. You may also add reviews from TripAdvisor and similar platforms to encourage searchers to pick your services and products.


Siri Local Voice Search
A big part of your local SEO strategy must be the optimisation and alignment of your keywords for voice search. While many thought keyword optimisation would become less important with the increasing popularity of voice search, we see quite the opposite. Keyword optimisation became more interesting. For example, Google searchers usually use fewer words in their speech to look for a location, while Apple users pick longer phrases. Accordingly, businesses should use long-tail keywords while optimising their Apple Maps listings to match the way Siri users form their voice queries.


Apple News
By introducing Apple Business Connect in January 2023, Apple showed its determination to improve Apple Maps features and the user experience aiming to catch up with Google. Undoubtedly, more enhanced features are coming soon. That can only mean that more companies will double down on their local SEO optimisation efforts resulting in harsher competition for higher rankings. By investing in your Apple Maps optimisation strategy today, you can have better chances of appearing in the top results.
Learn how PinMeTo can help you leverage Apple Business Connect for your multi-location brand
Astghik Nikoghosyan, January 19, 2023