Manage Your Google My Business Listings With PinMeTo Google Certified Partner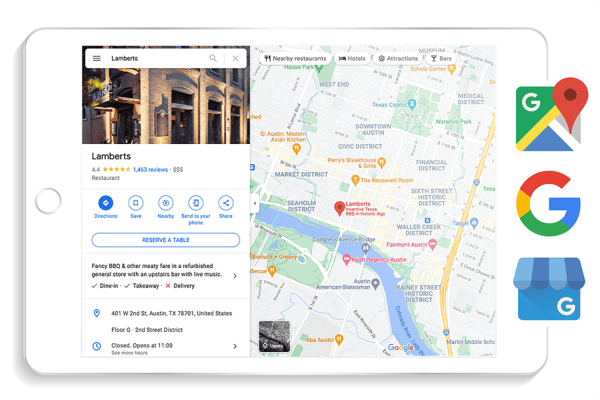 Grow your multi-location business with PinMeTo - Google certified partner. As a Google featured partner, our platform is connected through unique Google API integration, making it possible for our clients to manage their Google Business Profile (former Google My Business) with PinMeTo. Show up when people search for businesses like yours on Google Search and Google Maps.
What's Google My Business (Google Business Profile)?
With a Business Profile on Google, you get a set of features to interact with customers and manage how your local business appears. If your business has a physical location or multiple locations where you welcome customers, your Business Profile will help people find you. You can verify and optimize your Google My Business (Google Business Profile), provide detailed information on your business, optimize and customize each location listed online and respond to customer reviews. Companies that claim and verify their business on Google appear more trustworthy and rank higher.
Here are some key things to remember:
Google My Business is commonly abbreviated as GMB (GBP since November 2021)
To add your business to Google, you need to create a GBP Account and claim ownership of your Business Profile
Business Profile is not the same as GBP (GMB) Account
Note: in 2021 GMB has been renamed to Google Business Profile (GBP).
What information do consumers get from GMB Listings?
Business opening hours
Business address and how to get to the location
Phone number
Read reviews to decide whether it's worth visiting the venue
Check out photos of the venue
Make online bookings
Leave reviews
Visit the website
Look for available products
Check if the place is wheelchair accessible, LGBTQ+ friendly, pet-friendly, etc.
Challenges of managing your Google My Business Listings
With over 88% of the search market share, Google is undoubtedly the world's leading search engine. Even though Google is not the only search engine your client will use to find you, it's the one that will impact your sales the most. It's relatively easy to create a Business Profile on Google but hard and time-consuming to optimize Google My Business listings.
With Google's ever-changing algorithm, it's important to keep up with the algorithm requirements and update your listings accordingly to rank higher than your competitors. In case your business has more than 10, 20, or 100 locations, this mission becomes impossible to conduct without an automation tool.
Another big factor that affects searchers' decisions is customer reviews. Most of them read the reviews before visiting the venue, and if your listings are not optimized, if you never respond to the reviews, if you neglect negative reviews, you will lose potential customers right from the research phase.
Is Google My Business (Google Business Profile) for me?
Looking for something nearby – a pharmacy, gas station, or embassy – is one of the most common searches we do. In fact, more than one-third of all mobile searches are local. When connecting your GMB account to PinMeTo Google certified partner, you can manage features like reviews, menus, insights, and Google Posts in order to easily maintain and update your Google listings.
Manage your client's business information in bulk and through the Google My Business API (if applicable).
Make sure your clients can read and reply to customer feedback.
Use Insights to understand how customers interact with your client's business listings across the web.
Manage user access to specific locations or location groups.
Access customer support that's specialized for third-party agencies.
Do you want to add your multi-location business to Google? Do you already have Google My Business Listings and need help optimizing them?

Start managing your Business Profile from PinMeTo local SEO tool.
Our tool is fully GDPR compliant