For brands with many physical locations, linking ad campaigns to locations gives customers an easy journey from online search to offline store visit.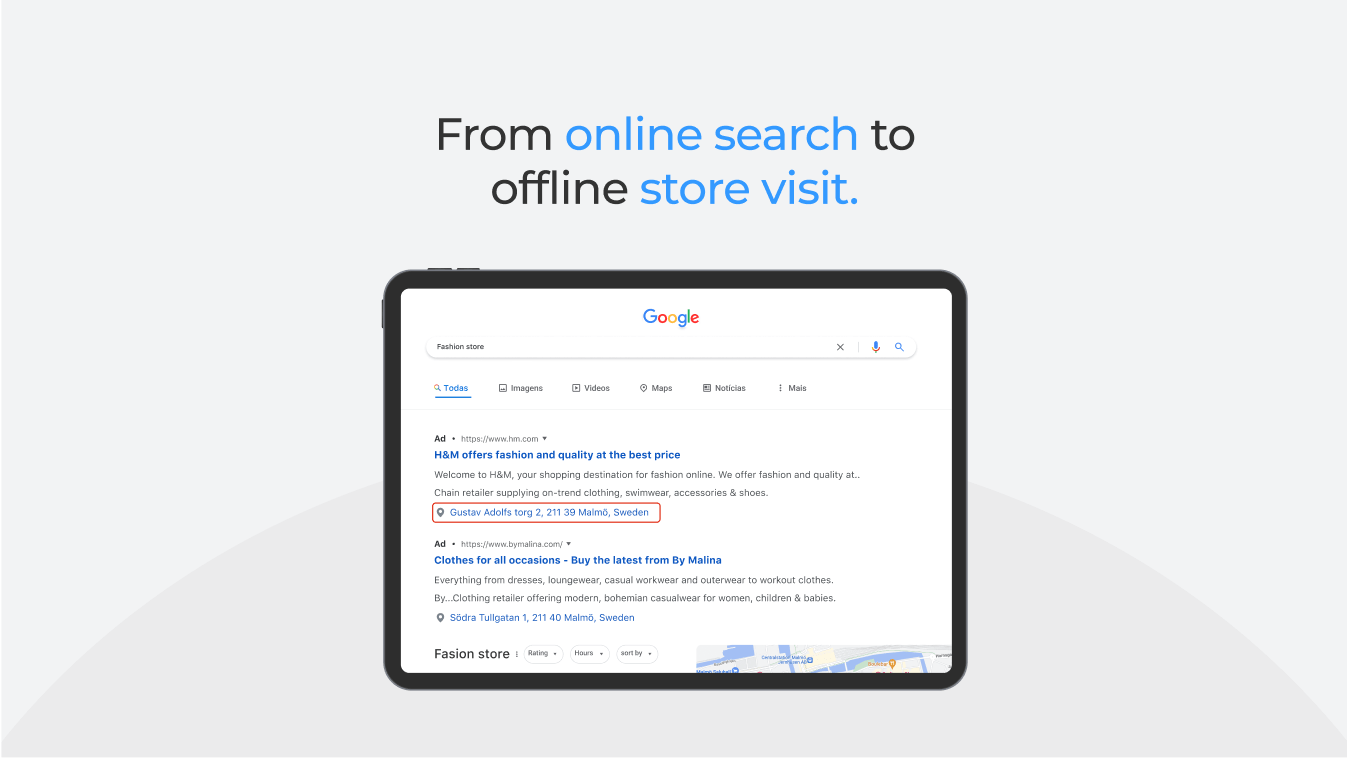 Location ads: what & why
Location ads are ads that reach people in certain localities and which link directly to the advertiser's nearest location.


These ads are similar to local ads or location-based ads in that they target people in specific areas. However, location ads take the local relevancy even further, by showing the viewer exactly where the advertiser's location can be found – making that person's journey from online view to offline store visit that much easier.
In the short term, brands that begin working with location ads will see an increase in-store visits.
And in the long term, these ads will raise brand awareness, so that maybe the next time a potential customer is passing by a location, they'll be more likely to stop. (A nice bonus is that some listings-based ad types only charge per click – so impressions & the resulting boost to brand awareness are cost-free!)


But first: the location structure
To get the most out of your local ads, you will need to have your location listings in a location structure.
A location structure is a way for brands with multiple physical locations to organize their online listings and ensure information stays accurate across all their connected locations and platforms.
But don't just take our word for it. Here's what an expert from GroupM, one of the world's biggest digital media agencies, had to say:
Building paid and earned media efforts on a solid content and owned media foundation is critical.

Within location marketing, that foundation is accurate and consistent location data across the client's website and various maps and social platforms. Without that foundation, even if we manage to engage the target audience through location ads, it is too easy to lose them if we deliver a poor or confusing customer experience through having inconsistent data.
When to use location ads
Location ads are the perfect tool for multi-location brands trying to drive more foot traffic to their brick-and-mortar locations.
Brands that don't have physical locations – for example, online-only retailers – don't need to use this ad type. But every brand with physical locations should consider adding these ads to their arsenal, to show customers the easiest and most relevant way to find them.
For example, think of the difference between seeing an ad for half-price pizza at a pizza chain, and seeing that same ad, but instead, it's promising half-price pizza at a location a few minutes away from your house.
Use case highlight: GroupM on how they use location ads for the retail sector
We work with clients that sell their products both online and in stores. Online sales is usually the main focus when it comes to performance marketing, but in many cases it's common to do research online and then buy in-store.

Online marketing can be equally as important in this case, but we need to find different ways to measure the value. A good start is usually to make sure your Google My Business is set up the right way, assign a relevant conversion period (number of days) that you want to record Store Visits after an ad click, and assign a value to each visit based on your average in-store conversion rate and the average value of each paying customer.
How listings-based local ads work, by network
Location-based ads on Google
When managing your Google My Business (GMB) presence, you'll first want to make sure you have a GMB listing for every one of your locations, and that you can manage them centrally – in other words, start by making sure your locations are in a location structure!

This will allow you to use Location Extensions in your Google Advertising, which supplements the ad with location information about the business, like business address, phone number, and even a link to get directions.
Using ads with location extensions makes it easier for your customers to visit your business.
These location extensions will encourage anyone seeing the ads to visit the locations, by showing how close and easily accessible they are.
"Location extensions can help attract customers who may be just around the corner." – Google
Ads with Location Extensions will show in Google search results and Google Maps, as well as in the extended Googleverse, like on YouTube or in the Google Display Network.
Location-based ads on Facebook
The Store Pages Structure is Facebook's location structure. It allows you to put your pages into a hierarchy of brand pages and local pages, and to collect insights from your entire network of pages.


After you've set up a Store Pages Structure on Facebook, you can easily promote location pages using Facebook's ad platform – they even have ready-made ad types designed to drive foot traffic to the locations, which will automatically be shown to people near the store.
The store traffic objective allows you to create and deliver localized Facebook ads to people nearby and encourage foot traffic to your stores. You can use this objective if you have multiple physical stores." – Facebook

In general, you should be sure to have the info listed on locations' Facebook pages, but you should triple-check the business info (especially addresses and opening hours) of any locations before launching an ad campaign – you wouldn't want to spend advertising money sending people to closed stores or inaccurate addresses!
Executive summary
Local ads make your advertising efforts more effective by showing people seeing the ads that the locations are nearby & making it easier for them to visit the location.

To get the most out of local ads, you need a location structure, which is a way for brands with multiple physical locations to organize their online listings.

Google and Facebook both have specific types of location structures, which can be used for specific ad types on their platforms.
Are you managing the online presence of a brand with multiple locations? Book a free demo of how PinMeTo could help you put your listings into a location structure & enable you to use more effective advertising!