Visibility on digital map services is one of the fundamentals of your online presence and is often what's drawing in local customers. The time it takes to get your business listed on map services such as Google Maps, Apple Maps, Foursquare, and Bing Maps is not particularly time-consuming, but it varies across platforms. Here's a detailed breakdown to help you plan effectively.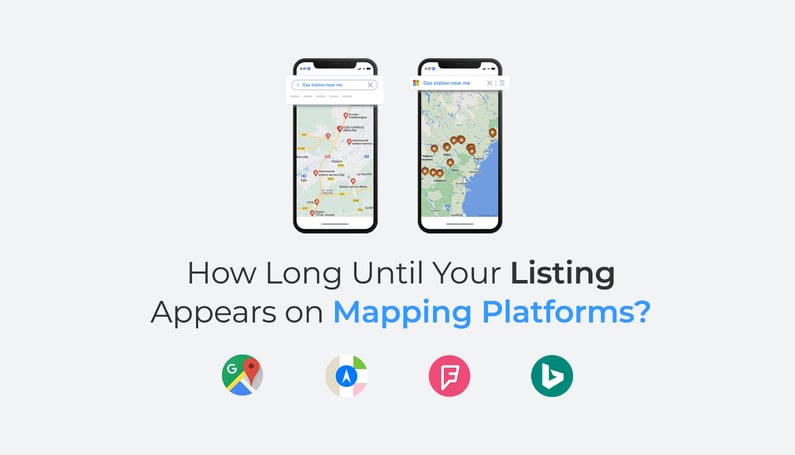 Google Maps
Google Maps is an integral part of the local search ecosystem, heavily influencing consumer behaviour with its comprehensive features and widespread use. It gives you free access to Google's vast search audience and integration with other Google services amplifies a business's visibility.
How long it takes for a listing to appear on Google Maps:
Depending on the verification method used - Up to two weeks for postcards; quicker for alternative methods.

*Local Tip: According to Google, businesses with optimised GBP receive 70% more visits, so make sure to regularly update your profile after verification to improve visibility.


Apple Maps
Apple Maps provides an essential platform for reaching Apple users, who often demonstrate high engagement and purchasing power. High integration with Apple products offers a seamless user experience for customers, particularly within the Apple ecosystem. The Apple Business Connect simplifies the listing process, benefiting businesses by connecting them directly with the Apple user base.
How long it takes for a listing to appear on Apple Maps:
Depending on the verification method used - 5-6 days via postcard, 2-3 days via mobile app.
Platform Used: Apple Business Connect (formerly Apple Maps Connect).
Account Setup: Quick sign-in with an Apple ID.
Listing Details: Provide essential business information and category.


*Local Tip: Apple users are 3 times more likely to use Apple Maps, so ensure accuracy of business details to facilitate smooth user experience.


Foursquare
Foursquare caters to a niche market of engaged users, providing opportunities for discovery and check-ins that can encourage social sharing and personal recommendations. Foursquare's social aspect can turn every customer visit into a potential personal endorsement. The platform's user reviews and suggestions contribute to a business's organic growth and reputation.
How long it takes for a listing to appear on Foursquare:
Instant after accepting the terms and conditions for new listings. Claiming an existing listing requires a verification process with no formal time frame specified, however Foursquare offers quick management access for a one-time cost of $20 USD.
Account Setup: A straightforward sign-up process.
Business Information: Input details such as name, address, and phone number.


*Local Tip: Leverage Foursquare's social aspects by encouraging check-ins and reviews.


Bing Maps
Bing Maps offers a reliable mapping alternative and is particularly effective for reaching audiences in specific regions or demographics that prefer Microsoft products. Bing Maps integrates with Microsoft's suite of services, offering potential for B2B visibility and reaching audiences in professional networks. Though it has a smaller user base, Bing's audience includes valuable demographics that may be overlooked on other platforms.
How long it takes for a listing to appear on Bing Maps:
Depending on the verification method used - Approximately 5-6 days by postcard, 1-3 days via mobile app.

Platform Used: Bing Places for Business.
Sign In/Setup: Quick with a Microsoft or associated account.


*Local Tip: Despite being the biggest search engine after Google, Bing is often underutilised, so having a high-ranking business listing here can give you a competitive edge.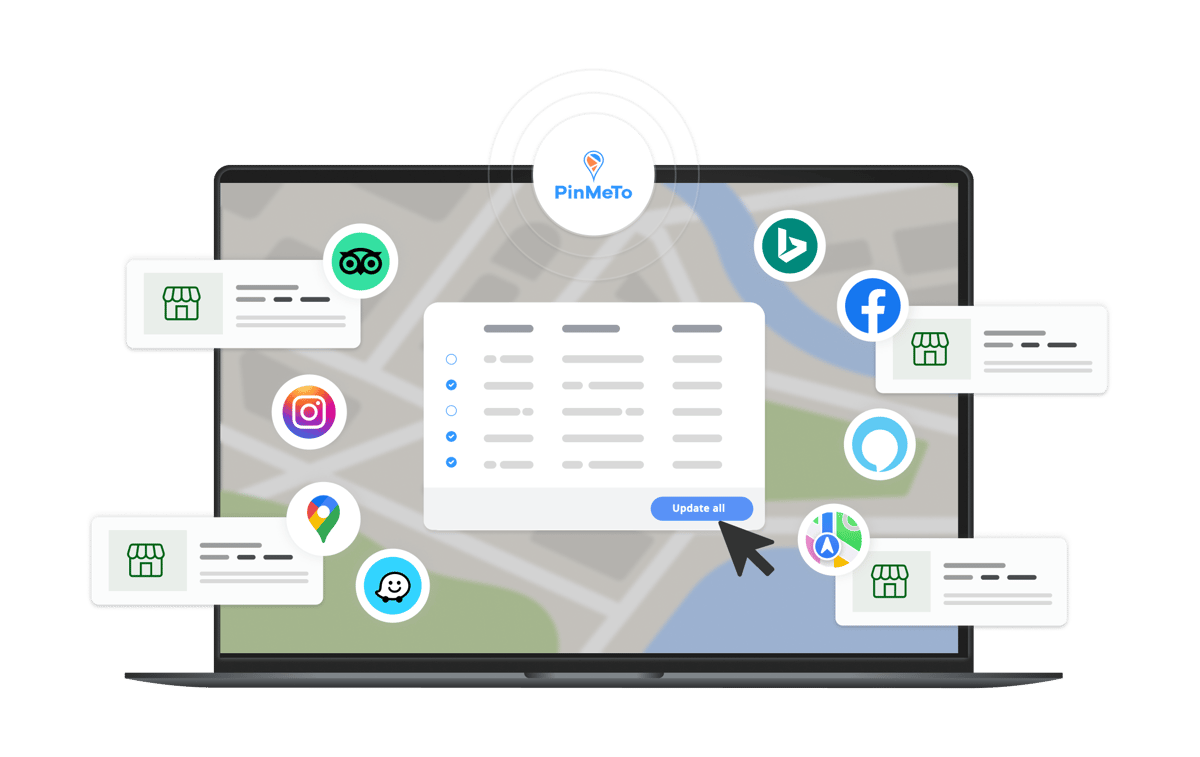 Enhancing Listing Management Across Platforms

Managing listings for multi-location brands can be complex, involving the synchronisation of information across various platforms to maintain accuracy and brand consistency. Local business listing management platforms like PinMeTo can help you streamline this by providing a centralised management solution, which supports the efficient handling of the verification process and ongoing control of listings. This will support your brand in capitalising on each platform's unique strengths, thereby boosting your local SEO and enhancing customer experience.

Ready for Location Marketing Made Simple?
What Else to Consider When You List Business on Maps
Efficiency: The actual setup time is minimal, often just requiring basic business information.
Verification Delays: Postal verification is the slowest step, so consider quicker alternatives if available.
Ongoing Management: After listing, maintaining and updating your information is key for the best results.
Balanced Approach: Spread your efforts across multiple platforms to cast a wide net for potential customers.
To Sum Up
Each mapping service offers its own set of tools and benefits, and while the process is relatively straightforward across the board, the verification step can introduce a slight delay. By investing a small amount of time into each platform and list business on maps, you can significantly increase your business's discoverability to local customers searching online.
Looking for ways to level up your local visibility?
Give us an overview about your business below and we'll prepare a free local visibility audit
Lily Adamyan, November 9