Google has recently rolled out its 2023 updates for Google Business Profile guidelines, bringing clarity and enhancements for businesses. This article breaks down the key changes and how businesses can effectively navigate them.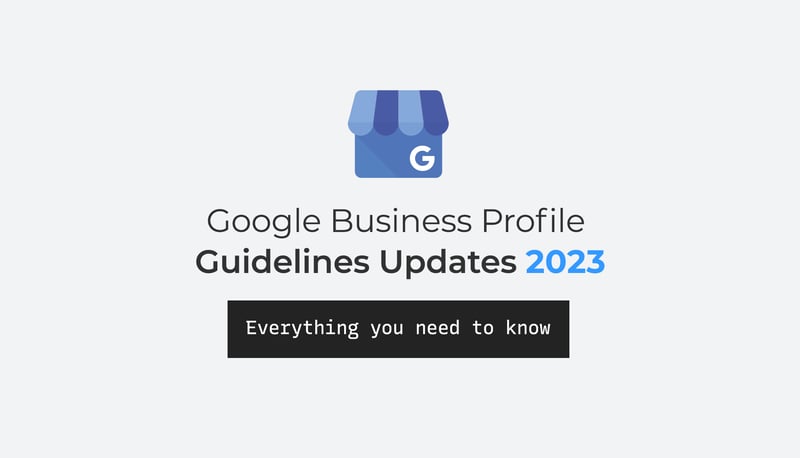 What's New in GBP Guidelines?
Google's revamped guidelines are now more straightforward, aiming to eliminate guesswork for businesses. The standout changes include a more clear-cut document detailing reasons for profile suspensions and content rejections. Additionally, the Help Center has undergone a redesign, offering an improved, user-friendly experience.

Key GBP Updates 2023:
1. Transparency in Verification Process

:
Google enhances clarity on business status and verification criteria. The emphasis is on providing transparent guidelines for businesses and users.

2. Account Restrictions:
Aimed at maintaining authenticity and trust, Google will restrict content or access if there's a violation of their policies.

3. Ownership and Eligibility:
Clearer standards on who can own and manage business profiles. Businesses with addresses like P.O. boxes are ineligible.

Criteria that may affect ownership:


inactivity,
loss of authorisation,
lack of communication,
profile deletion,
suspended product profiles.
4. Guidelines for Authorised Representatives:
Authorised reps should collaborate with business owners directly. Emphasis on following best practices when representing a business.

5. Content Posting and Restrictions:
New guidelines on user contributions, promoting quality and relevance. Restrictions can range from partial to full and can be short or long-term.

6. Single Profile Rule:
Businesses should have only one profile to avoid discrepancies on Google Maps and Search.

7. Service Area and Hybrid Businesses:

Clear instructions for businesses serving at client locations. Clarifications provided for businesses with both a storefront and a service area.

8. Special Hours Guidance:
Guidelines for businesses that don't operate on regular hours. Specific instructions for appointment-based businesses and those with varying operational hours.

9. Business Links Clarification:
Troubleshooting tips for invalid links. Guidelines on link addition post verification. Policies on duplicate links and domain conflicts.

Find all Business Profile policies & guidelines here.
Ready for Location Marketing Made Simple?
Tips To Fully Leverage Google's GBP:
Familiarise yourself with all facets of the guidelines.
Prioritise verifying and overseeing your profile's ownership.
Post engaging content that aligns with Google's rules.
Regularly update your profile, and address all reviews to build a trustworthy brand image.
Read through our Complete Google Business Profile Guide for more.



To Sum Up
Understanding and adapting to Google's 2023 Business Profile guidelines is essential for optimal online success. These updates simplify and clarify, aiding businesses in navigating the digital realm. Keep your profile current, engage with customers, and ensure your content aligns with Google's standards for a standout online presence.
Looking for ways to level up your visibility on Google?
Give us an overview about your business below and we'll prepare a free local visibility audit
Lily Adamyan, August 17