In the high-stakes game of local SEO, you need every trick in the book to stay ahead, and learning how to use ChatGPT for local SEO to its fullest can give you an edge in boosting local visibility of your multi-location brand. In this article, we will explore 5 ChatGPT prompts for local visibility, specifically designed to optimise your local search marketing efforts.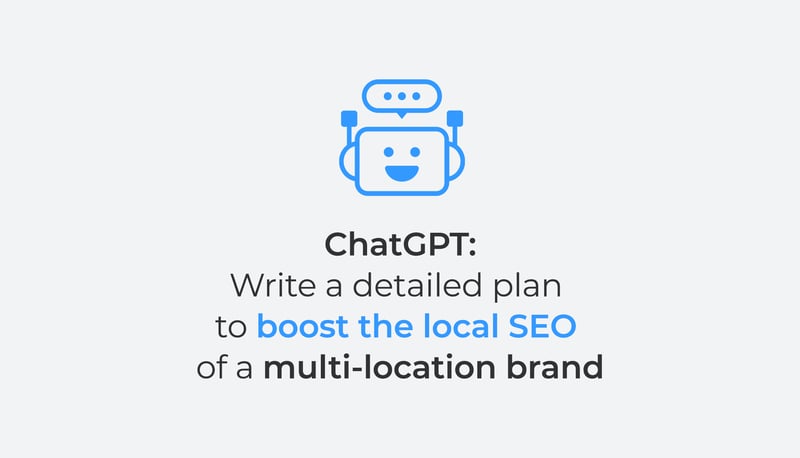 Prompt 1: AI-Made Local Visibility Strategy

"Craft a comprehensive local SEO strategy for a multi-location [your industry] brand in [your market localisation]. This should include keyword research, location-specific landing pages, and citation building. Emphasise particularly on low-competition and popular keywords in my niche."
---
This prompt encourages ChatGPT to design a local SEO strategy customised for your multi-location brand's industry, market and other specifications that you will provide like the number of your locations, description of your specific niche, etc.
The insights could range from keyword research to discover the most effective location-specific terms to target, strategies for creating landing pages for each of your locations filled with localised content, and tactics for building consistent local citations across different directories.


*Tip: To generate popular queries your target audience may have, experiment with the ''X'' prompt with as many details as possible, e.g. ''Generate a list of questions you'd have as a [your target audience] who are looking for [your product/ service],'' you can then use these responses to convert them into keyword terms and cross-check them with actual data from platforms like Ahrefs or Semrush.



Prompt 2: Google Business Profile AI-Optimisation

"Offer tangible recommendations to optimise the Google Business Profile for a multi-location chain in [your industry, market localisation]. This should cover updates to listing information, review management, and leveraging Google Posts."

---
By using this prompt, ChatGPT will offer practical suggestions to optimise your Google Business Profile.
The recommendations may include ensuring accurate and up-to-date listing data for each location, actively managing and responding to customer reviews to maintain a positive reputation, and using Google Posts to promote location-specific offers, events, and specials.


*Tip: ChatGPT can also be used to draft responses to common customer reviews or concerns, which you can then personalise.




Prompt 3: ChatGPT's Step by Step Plan for Local SEO

"Present a detailed, step-by-step plan to boost the local SEO of a multi-location [your services] brand in [your market localisation]. This should focus on local landing pages, acquiring backlinks from industry-specific websites, and implementing schema markup."

---
This prompt asks ChatGPT to generate a detailed plan specifically for improving your local SEO.
*Tip: Keep in mind that ChatGPT doesn't have access to live-data, and most of its numbers are at least 1-2 year-old. While crafting your SEO strategy and working with key metrics like your Keywords' search volume, SERP results, and search intent, make sure to refer to the live-data resources first and use the AI as a helping hand.


Prompt 4: Localised Content Marketing Plan

"Craft a content marketing plan to enhance the local SEO of a multi-location [your business] in [your market localisation], incorporating localised blog posts, product/service showcases, and collaborations with local influencers."

---
This prompt guides ChatGPT to generate a content marketing plan specifically tailored for your business.
The plan may include creating localised content like blog posts targeting specifically industry-related topics and locations, highlighting your product/service and customer success stories from each location, as well as teaming up with local influencers or experts to broaden reach and build credibility.


*Tip: Ask ChatGPT to draft outlines for your localised content. The prompt could include a detailed description of your target audience, their buyer journey, and an overview of your offered product/service.


Prompt 5: Learning from Others' Mistakes

"List the common mistakes multi-location [your business] brands make with local SEO and how they can avoid them. Include real-life examples for each mistake."

---
With this prompt, you're asking ChatGPT to list some common slip-ups businesses like yours usually make when trying to improve their local SEO, and real-life examples to help you picture how these blunders happen and how to fix them.
This can be a great tool to spot any errors you might be making, teach your team about SEO, and see how making the right changes can boost your visibility in local search results.


*Tip: You can ChatGPT to generate a list of best practices that your competitors are using to improve their local SEO. Keep in mind that the more specific you are with your prompts, the more tailored the AI's responses will be.


To Sum Up
By incorporating these advanced ChatGPT prompts into your local visibility, whether you have a multi-location business or a small business, you can gain valuable insights to optimise your website, Google Business Profile, and have stronger local SEO input. Leverage the power of AI and these 5 prompts to stay ahead in the local search landscape, attract more local customers, and drive the success of your business.

Looking for ways to step up your local marketing?
Give us an overview about your business below and we'll prepare a free local visibility audit
Lily Adamyan, June 7